As I shared with you last Friday – I am a chocoholic.  So Valentines is a popular holiday at my house.  But here's a recipe for those of you who like other flavors.  Linzer Cookies are a classic sandwich cookie with a 'window' in the top cookie – filled with yummy spreads and jams.  Since it's Valentines, I decided to make heart shaped cookies….  and although I was tempted to use nutella, I decided to use F.R.O.G. (Fig, Raspberry, Orange, Ginger) Jam, from nearby Jaemor Farms, for the filling.  The deep red color was perfect for Valentines and the taste is delicious!
This is a, slightly tweaked, recipe from the King Arthur Flour website.  I must say though, their recipe says it makes 5 dozen sandwiched cookies. I must have made ginormeous cookies, because I only got 2 dozen cookies from one batch. So if you want a large amount of cookies, be sure to really roll out the dough to 1/8 inch  (Yes, mine were a little thicker.) and don't make too large a cookie (is there such a thing?!)
Here they are on the platter I took to share with friends.
and just a few on a plate would be a welcomed gift.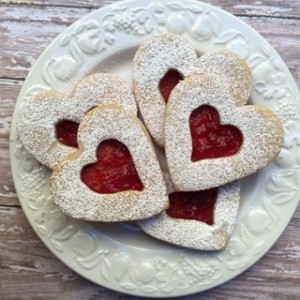 Since Valentines is on a Saturday this year, this would make a fun activity with the kids, especially if you're cooped up in Snowmagedan #3 (or is it 4!!)
Happy Valentine's Y'all !!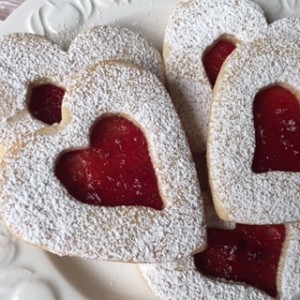 Valentine's Linzer Cookies
Ingredients
1 cup unsalted butter, room temperature
1 cup confectioners' sugar
1/2 cup granulated sugar
1 tsp baking powder
1/2 tsp salt
3/4 tsp pumpkin pie spice
2 tsp vanilla extract
1 large egg, room temperature
2 1/4 cups all-purpose flour
1 cup almond meal
1 cup seedless raspberry jam
confectioners' sugar for dusting
Instructions
Cream the butter with an electric mixer. Add the sugars, baking powder, salt, pumpkin pie spice and vanilla. Mix to combine.
Add the Egg and mix until incorporated.
Add the almond meal and flour. Mix until thoroughly combined.
Divide the dough in half and form into a disc. Wrap in plastic wrap and refrigerate for 60 minutes.
Preheat oven to 375 degrees F.
Roll out the dough in several to 1/4-1/8 thickness. I roll out the dough on parchment paper, so it's easier to peel back the dough without ruining the shape.
Cut the dough into desired shapes. Cut the middle of half the cookies with a smaller cutter.
Transfer the cookies to a parchment lined sheet pan/cookie sheet.
Bake the cookies for 8-10 minutes, until the edges are slightly brown.
Remove the cookies from the oven and transfer to wire racks to cool.
When cooled, dust the cookies with the cutout with confectioners' sugar.
Spread the solid cookie with jam (approx.1 tsp per cookie), keeping the jam away from the edges, Make sure the part of the cookie that will show through the cutout is completely covered.
Top each solid cookie with a cutout cookie. Handle the cutout cookies by the edge or you'll have fingerprints in the confectioners' sugar!
Let stand for several hours.
Notes
Based on a King Arthur Flour recipe.
http://ascrumptiouslife.com/valentines-linzer-cookies/