I participate in two cookie swaps each year- the Food Blogger Cookie Swap and my own. This year I decided to make Chocolate Krinkle cookies for the food blogger cookie swap, but I couldn't find my former sister-in-law's recipe. UGH!!  So, I had to create another recipe for that swap and I'll share it with you next week.
But then, I found the missing recipe- woohoo! So  I decided to make Chocolate Krinkle cookies for MY cookie swap this weekend.  This is a classic recipe that is always a hit and one batch makes 6 dozen cookies! Perfect for a cookie swap.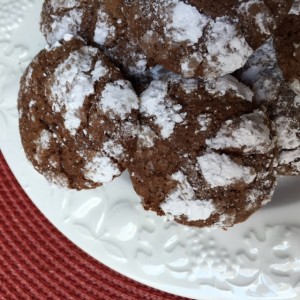 This is a great cookie to make during the busy holiday season, because it can be made in stages. I often make the batter one night, as it has to rest in the fridge for several hours (or overnight) and then bake the cookies the following day.  I've found it helpful to refrigerate the dough in two containers instead of just putting the mixing bowl in the fridge. Why?  Because rolling the dough into balls is much easier with cold dough – so keeping the second half of dough cold until you need it eases the process immensely.
The result is a wonderfully chocolaty treat – a little too wonderful, if you get my drift.  Maybe 6 dozen isn't enough after all!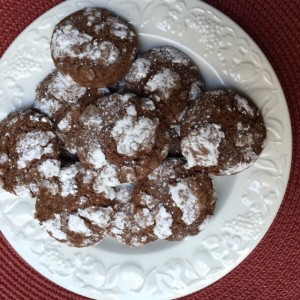 Chocolate Krinkle Cookies
Ingredients
1/2 cup canola oil
4 oz unsweetened chocolate
2 cups granulated sugar
4 eggs
2 tsp vanilla
2 cups all-purpose flour
2 tsp baking powder
1/2 tsp salt
1 cup confectioners sugar
Instructions
Melt the chocolate with a little of the oil in the microwave.- 1 1/2 minutes, stirring after every 30 second interval.
Meanwhile, add the remaining oil and granulated sugar into an electric mixing bowl and stir.
Add the melted chocolate and combine.
Add the eggs, one at a time and combine.
Stir in the vanilla.
Slowly add the flour, baking powder and salt.
Pour batter into two lidded containers and chill several hours or overnight.
Preheat the oven to 350 degrees F.
Roll the dough into 1 inch balls and roll the balls in confectioners sugar. Place the balls 2 inches apart on a greased cookie sheet.
Bake for 10-12 minutes. Don't overbake!
Remove the cookies from the oven and cool on a wire rack.
Store in an airtight container.
http://ascrumptiouslife.com/chocolate-krinkle-cookies/