Sausage balls are a perennial favorite at holiday parties and open houses.  But frankly I think they can be really dry.  So I hadn't bothered to make them before.  However, I found this recipe from big oven that adds cream cheese to the recipe and let me tell you, that simple addition  makes all the difference!  I served this for a big gathering  and  some guests (who have obviously made the original recipe) were questioning me on how I made them – because they weren't dry…….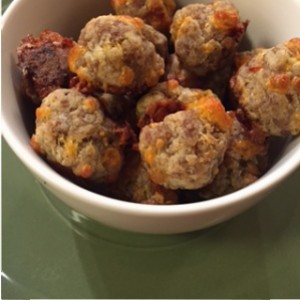 This recipe makes 100-120 meatballs, depending on their size – making them ideal for a big gathering.    They can be made in advance and served at room temperature or re-heated in a low oven, prior to serving.  Just mix sausage (I used 1/2 mild and 1/2 hot sausage), bisquick (and FYI they make a GF version now), shredded cheddar and cream cheese and, using your hands, work the mixture to combine.  Shape the balls (I used a 1 inch scoop to help portion out the sausage mixture, to keep the meatballs uniform.) and bake at 400 degrees for 20 minutes, switching the sheet pans  halfway through.  The result is a tasty, crisp on-the-outside sausage ball that is moist!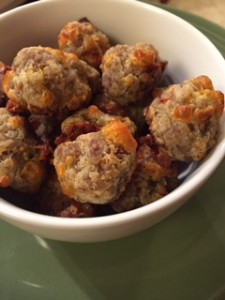 Sausage balls with cream cheese
Ingredients
2 lb sausage (I use 1/2 mild, 1/2 hot), uncooked
16 oz cream cheese
2 1/2 cups bisquik
8 oz shredded cheddar cheese
Instructions
Preheat oven to 400 degrees.
Mix all the ingredients together.
Shape into 1 inch balls (I use a 1 inch scoop, to aid size consistency).
Place the sausage balls on a sheet pan and bake for 20-25 minutes, until brown.
Serve immediately or store, once cooled, in an airtight container.
Notes
Uncooked sausage balls can be frozen. Add additional baking time, if cooking frozen balls.
Source: Big Oven
http://ascrumptiouslife.com/sausage-balls-with-cream-cheese/