A friend asked me to make some cookies for a get-together last weekend. So, I used it as an excuse to try a new recipe – Rosemary Shortbread Cookies. Delicate little cookies that are wonderful with a cup of tea.  Heck – they were pretty darn good all by themselves!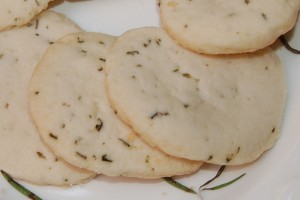 Now, I've made shortbread cookies before. My go to-recipe when I need a lot of cookies is this recipe.  I also used that recipe as a base for my "Samoa" cookies.  Today's recipe is a slice and bake cookie that makes 4 dozen treats.  The resulting cookies are lighter than my other recipe and the addition of finely chopped rosemary makes this a WOW!  Just make the dough, form it into logs, freeze the logs for 50 minutes, then slice and bake. Easy huh?!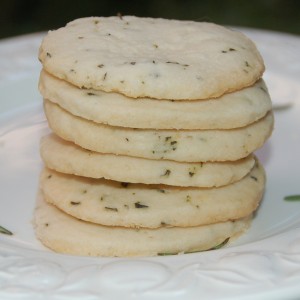 Best of all, the dough can be made and frozen a month in advance.  So it may be a good candidate for your holiday baking. I know… I'm rushing the season, just a tad… but seriously one recipe could make 4-6 quick gifts!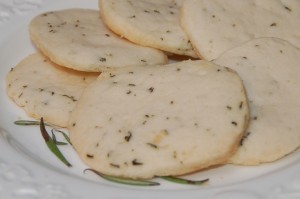 Rosemary Shortbread Cookies
Ingredients
1 cup butter, softened
3/4 cup powdered sugar
2 cups all-purpose flour
1/4 tsp baking powder
1/8 tsp salt
2 Tblsp finely chopped fresh rosemary
Instructions
Beat the butter at medium speed with an electric mixer, until creamy.
Gradually add 3/4 cup powdered sugar. Beat until smooth.
Gradually add the flour, baking powder and salt, at low speed until combined..
Add the chopped rosemary and stir until combined.
Shape the dough into 2- 7 inch logs, making sure the ends of the log are flat. Wrap each log in wax paper, and freeze for 50 minutes.
Preheat oven to 350°.
Lightly score each log in half, then half, and then half again - ending with 8 sections. Slice each section of the logs into 3 slices - making a total of 24 slices per log.
Place shortbread slices on a parchment lined baking sheet, 1 inch apart.
Bake for 12-14 minutes, until the edges are slightly golden.
Remove cookies from oven and place on wire racks to cool.
Store in an airtight container.
Notes
Uncooked cookie dough may be frozen for up to a month. Remove the frozen logs from the freezer and let stand for 10 minutes, before slicing.
http://ascrumptiouslife.com/rosemary-shortbread-cookies/
.