At the holidays I don't like to forget my furry friends.  Every year I make some goodies for my friends' dogs, with extras for Maggie (of course).  In the past I've made these Gingerbread Dog Cookies – and using the teenie cookie cutters I found – how cute are these ?!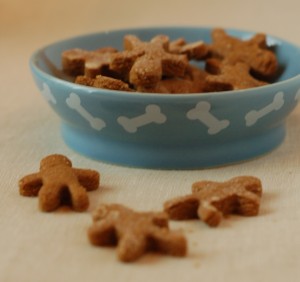 But as you can see – photography can be an issue with Maggie as a helper.
At least you know the recipe is 'Maggie approved' !!
Gingerbread Dog Cookies  (Yield depends on the size of the cookies.)
Ingredients:
1 1/2 cup oat flour
1 1/2 cup brown rice flour
1 tsp baking powder
1 tsp ground ginger
1 tsp cinnamon
1/2 tsp baking soda
1 egg
1/4 cup safflower oil
1/2 cup molasses
1/4 cup peanut butter (preferably unsalted)
1 Tblsp apple cider vinegar
Instructions:
Preheat oven to 350 F degrees
Combine all ingredients together and mix thoroughly until a dough forms.
Roll the dough out on a lightly floured surface to 1/4″ thickness.
Cut out the treats using a small cookie cutter.
Place the cookies closely together,on an ungreased cookie sheet.
Bake 18-22 minutes or until the edges are golden brown.
Let the cookies cool completely on a wire rack.
Store at room temperature in a loosely covered container.
This recipe is from 'the original dog biscuit cookbook'.