I read lots of magazines, and am often seduced by the cover recipe photo.  This month's Southern Living pictured a chocolate cake that looked 'slap your mama' good.  TRIPLE CHOCOLATE BUTTERMILK POUND CAKE.  Need I say more?!  It shot right to the top of my "must try this" list.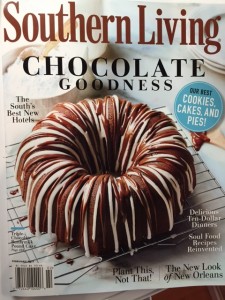 I am an admitted chocoholic, so I knew that baking it (and then having it in my house with just me to eat it) would be a problem.  So last weekend, I made it and promptly took it to a Super Bowl party for others to enjoy. (OK, maybe I did bring a slice home for later)…. Anyway,  I unwrapped it and started to explain that it was the cover….  our hostess immediately knew the recipe, because she'd already clipped it out to try herself !
This cake is fabulous!  Chocolately , rich, moist, did I say chocolatey?  It's made with cocoa and bittersweet & semi- sweet chocolate chips – hence the name.  And the buttermilk glaze adds a nice note, with all the sweetness.  Since it's so rich, it feeds an army, so it's a great cake to take to a reunion, birthday party or pot-luck.  I also think it would make a wonderful Valentines treat, if made in little bundt pans.
To decorate the cake I used the silicone decorating set, that I received from OXO, for participating in last December's Food Blogger Cookie Swap.  The squeeze bottles and tiny decorating tip made it easy to evenly distribute the thin lines of glaze.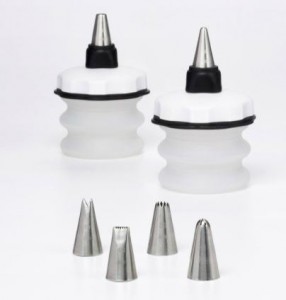 If I had to do it again, I might use a larger tip, like the cover photo. But I can assure you the taste was certainly not affected one bit!  Who am I kidding, I'll be looking for opportunities to make this again soon!  So here is the beauty – looks delicious, yes?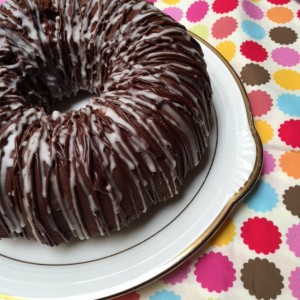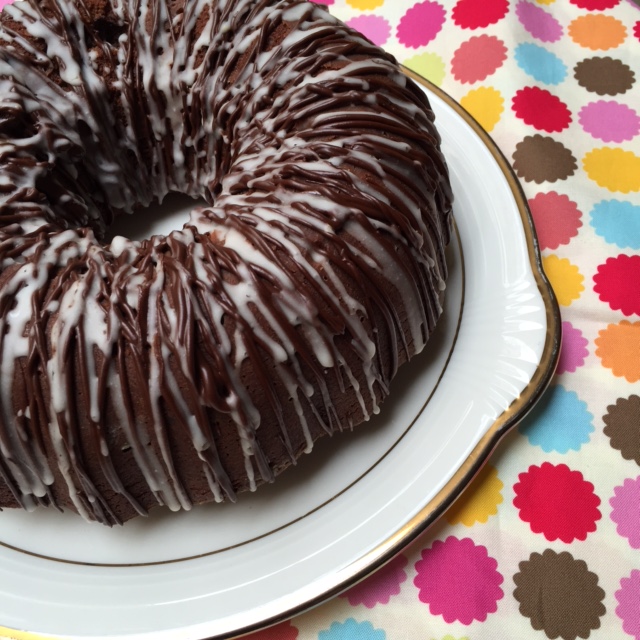 Triple Chocolate Buttermilk Pound Cake
Ingredients
Cake

2 cups all-purpose flour
3/4 cup unsweetened cocoa
1/2 tsp baking powder
1 tsp salt
1 1/2 cups butter, room temperature
3 cups granulated sugar
5 large eggs, room temperature
1 1/4 cups buttermilk
2 tsp instant espresso
2 tsp vanilla extract
1 cup bittersweet chocolate morsels
Shortening & additional flour, for greasing the pan

Chocolate Glaze

3/4 cup semisweet chocolate morsels
3 Tblsp butter
1 Tblsp light corn syrup
1/2 tsp vanilla extract

Buttermilk Glaze

1 cup confectioners sugar
1-2 Tbsp buttermilk
1/4 tsp vanilla extract
Instructions
Cake

Preheat oven to 325°. Grease the pan with shortening and flour.
Whisk together flour and next 3 ingredients in a bowl. Set Aside.
Beat 1 1/2 cups butter in a medium bowl at medium-high speed with an electric mixer until smooth.
Gradually add granulated sugar, beating until light and fluffy.
Add the eggs, one at a time, beating just until yolk disappears.
Combine 1 1/4 cups buttermilk , instant espresso and vanilla extract.
Add flour mixture to egg mixture alternately with buttermilk mixture, beginning and ending with flour mixture. Beat at low speed after each addition.
Fold in bittersweet chocolate morsels.
Pour batter into a well-greased (with shortening) and floured 12-cup Bundt pan. Sharply tap pan on counter to remove air bubbles.
Bake at 325° for 75-85 minutes or until a wooden pick inserted in center comes out clean.
Cool in pan on a wire rack 20 minutes. Remove from pan; cool completely on rack.

Chocolate Glaze

Combine semisweet chocolate morsels, 3 Tbsp. butter, and 1 Tbsp. corn syrup in a microwave-safe glass bowl.
Microwave at MEDIUM (50% power) 1 minute or until morsels begin to melt. Stirring after 1 minute until smooth.
Stir in 1/2 tsp. vanilla.
Drizzle or pipe over the cooled cake.

Buttermilk Glaze

Whisk the powdered sugar, 1 Tbsp. buttermilk, and 1/4 tsp. vanilla in a small bowl until smooth.
Add up to 1Tbsp. buttermilk, to desired consistency.
Drizzle over chocolate glaze.
http://ascrumptiouslife.com/triple-chocolate-buttermilk-pound-cake/