I've had this  sugar cookie recipe from Rose Levy Beranbaum for years. Even though they are called 'Sugar Cookies', I like them because they aren't too sweet.  Of course when you add the Royal Icing, all bets are off.
During the holidays, it seemed that taking the time to make (and especially decorate) shaped cookies was too much, alongside everything else I was doing.  So this year I decided to make them for Valentines' Day instead. I made several different sizes.  If you make an assortment, just remember to put like-sized cookies on the same cookie sheet, so they'll cook evenly. These are great to make with the kids, especially if you're  stuck inside with all the snowstorms.  Icing, sprinkles, sugar… what fun!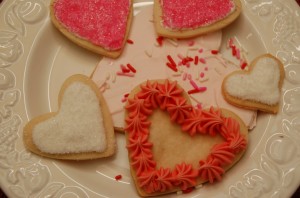 Ingredients
Cookies

3/4 cup sugar
12 Tblsp unsalted butter, softened
1 large egg
1 tsp vanilla extract
1/2 tsp lemon extract
2 1/4 cups all-purpose flour
1/4 tsp salt
Water

Icing

3 large egg whites
4 cups powdered sugar
Instructions
Cookies

Put the sugar and butter into an electric mixing bowl and cream until fluffy.
Add the egg and extracts and mix to combine.
Whisk the flour and salt together and gradually add to the batter.
Add water, a drop at a time, until the dough starts to come away from the bowl.
Press the dough onto plastic wrap, forming into a disk. Wrap and chill in the refrigerator for 2 hours (no longer than 3 hours).
Preheat oven to 350 degrees F.
Roll the cookies to 1/4 inch thickness on a slightly floured counter.
Cut out the cookies and transfer then onto a parchment covered cookie sheet.
Bake 8-12 minutes, rotating halfway through.
Remove the cookies from the oven and cool on a wire rack.
Decorate with Royal Icing.

Icing

Beat the egg whites and sugar on low speed until blended.
Turn mixer to high and mix 5-7 minutes, until peaks form.
Icing keeps for 3 days in an airtight container.
Notes
If creating multiple shapes, bake similar sized cookies on the same cookie sheet. If possible , bake all of one shape on the same sheet.
http://ascrumptiouslife.com/sugar-cookies/