Since St Patrick's Day is on a Tuesday, this year,  I thought I'd offer an easy method for preparing the traditional Corned Beef and Cabbage – using a slow cooker.  Put it on before you leave for work (or the pub) and it'll be almost ready when you get home.  Easy huh!  I think I'll be using this method no matter what day St Patrick's Day falls on, from now on.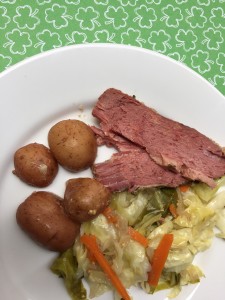 I would suggest an oval shaped crock pot for this meal, as it works well with the large piece of meat. Since mine is  the more traditional "stand up" crock pot, I had to borrow an oval one from a friend.  (Yes, the oval kind is now on my must-get list.)  You simply layer some halved small red potatoes, sliced carrots and onions, and the beef in the crock pot.  Sprinkle the meat with the spices that come with the beef and then add 5 cups of water.  (You can substitute 1 cup with beer, if you're so inclined). Cook on high for 7 hours, then add sliced cabbage and cook for another hour.  There you have it!
The result is a really nice moist, tasty piece of beef, complete will all the trimmings.  I always thought there was so much more to it!  Next year I 'll probably have time to  make Irish Soda bread too!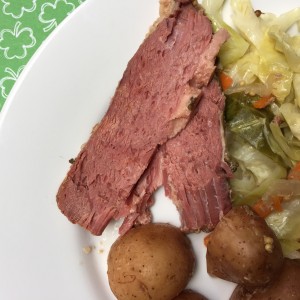 Slow Cooker Corned Beef and Cabbage
Ingredients
12 small red skinned potatoes, halved
5 carrots, peeled and cut into sticks
1 small yellow onion, sliced
1-4lb corned beef, with spice packet
5 cups water
1 small head of cabbage, sliced
Instructions
Layer the potatoes, carrots, onion and beef in the slow cooker.
Sprinkle the beef with the included spices and cover with 5 cups water.
Cook in the slow cooker on HIGH for 7 hours.
Add the sliced cabbage and cook for 1 more hour.
Serve immediately.
Notes
Substitute one cup of beer for one of the cups of water, if desired.
http://ascrumptiouslife.com/slow-cooker-corned-beef-and-cabbage/