When I moved to Atlanta from New York, I couldn't believe we didn't get Memorial Day as a holiday.  In New York, Memorial Day was a big deal – the beginning of summer !! I guess since it's been in the 80's since March, the start of summer isn't quite the same, here in the south. Growing up, our Memorial day began with the town parade.  I was in marching band, so I participated  for several years.  These days , I DO get the holiday off and this year, I'm visiting my hometown for the weekend. I wonder if we'll attend the parade?
Well , whether you attend a parade, run a 5K or just sleep in – if you're looking for an easy, no fuss holiday meal, I hope  you'll try this slow cooker BBQ pork.  This recipe really couldn't be easier; and since it uses a Boston Butt cut of pork, its economical as well.  It's quite similar to this Cuban Pork in preparation, but totally different in taste.  Serve it on its own or make into sandwiches.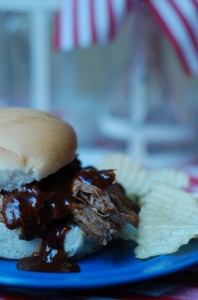 Slow Cooker BBQ Pork
Ingredients:
4 lb Boston Butt
1 videlia onion, sliced
1 cup BBQ sauce (I used Masterpiece)
Instructions:
Trim the Boston Butt of excessive fat.
Place the pork in slow cooker.
Top with the onions and BBQ sauce.
Cook on LOW for 7-8 hours.
Remove the bone and 'pull' the pork with a fork. (the pork will be falling off the bone).
If you like a thicker sauce, pour the sauce into a saucepan, heat and reduce to desired thickness.
Add the pork to the sauce and stir to coat.