It's been just frigid this week. It's not often that Atlanta is colder than Alaska!  A perfect time to try this easy Chicken Tortilla Soup. Wouldn't it be great to put all the ingredients in a slow cooker in the morning and have a hot meal ready when you get back from work (or skiing)!
This soup is a comforting blend of chicken, tomatoes, black beans, corn and green chiles with chicken stock, a few spices and enchilada sauce.  Top it off with quickly fried tortilla strips and a dollop of sour cream.  Yum!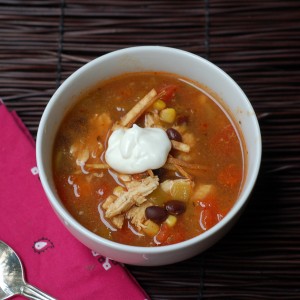 Slow Cooker Chicken Tortilla Soup
Ingredients
1 14.5 oz can petite diced tomatoes
1 14.5 oz can black beans
1 10 ox can enchilada sauce
1 8.5 oz can corn
1 4.5 oz can green chiles
4 cups chicken broth
2 tsp minced garlic
1 tsp cumin
1 tsp chili powder
1 tsp taco seasoning
1 tsp oregano
1 tsp salt
1/2 tsp black pepper
2 chicken breasts, uncooked
2 Tblsp cilantro paste
Juice of 2 limes
Fried tortilla strips and sour cream for garnish
Instructions
Place all ingredients, except the cilantro paste and lime juice, into a slow cooker.
Cook High 3-4 hours or Low 6-8 hours.
Stir in the cilantro paste and lime juice.
Serve warm with fried tortilla strips and sour cream garnish.
http://ascrumptiouslife.com/slow-cooker-chicken-tortilla-soup/