Cinco de Mayo is almost here.  It's going to be a busy day for me, so I went on the hunt for  a slow cooker recipe that would make preparing a Mexican meal easier.  Here's my adaptation of a recipe I found on 'Good Life Eats' for Shredded Tex Mex Chicken.  The chicken is moist and shreds easily for tacos – the perfect base for my mexican meal. I would be wonderful for chicken enchiladas or taco salads as well.
I've used cilantro puree, a favorite find from the grocery store, in this recipe. You can find tubes of this and other herbs in the produce section.  I like to use this because I find that cilantro is both difficult to grow and doesn't last long in the fridge.  I use it in my chili as well.
To round out the meal, provide bowls of your favorite taco toppings.  For a quick side, make a package of spanish rice and add diced tomatoes (fresh or canned petite diced).
For a different topping, I made a Cilantro Cream.  Just mix, 1/2 cup sour cream with 2 tsp cilantro puree, 2 Tblsp milk and salt & pepper to taste.  Make ahead and refrigerate, so the flavors can meld.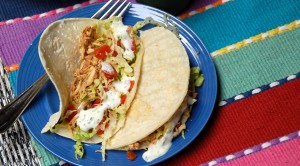 Shredded Tex Mex Chicken.
Ingredients:
1 Tblsp chili powder
1 1/2 tsp salt
1 1/4 tsp cumin
1/2 tsp cilantro
1/2 tsp black pepper
1/3 cup chicken broth
1 large onion, diced
1 Tblsp olive oil
4 garlic cloves, minced
1 jalepeno, seeded and minced
1/4 cup cilantro puree
2 limes, 1 zested
2 lbs boneless, skinless chicken breasts, cut in half
Instructions:
Mix the first 5 ingredients in a small bowl, set aside.
Heat the olive oil.
Add the onions and saute for 5 minutes until transluesent.
Add the garlic and cook for 2 minute.
Add the mixed spices and cook for 1 minute.
Add the chicken broth to deglaze the pan.
Remove the onion mixture from the heat.
Place the chicken in the crockpot.
Add the jalepeno, cilantro puree, zest from 1 lime and juice from two limes to the onion mixure. Stir to combine.
Pour the onion mixture over the chicken, cover and cook on low for 3-5 hours.
Remove the chicken from the crock pot and shred using 2 forks.  Using a slotted spoon, spoon the onion mixture over the chicken. Toss to combine. If you like, add some of the juice to chicken.  (I didn't, but if you're making this way in advance you may want to keep the juice to use when reheating the chicken.)