It's been a crazy few weeks for some friends of mine, not the least of which was moving to a new home – so I decided to bring them dinner on moving day.  A cozy meal seemed the right idea, featuring this slow cooker Tomatillo Chicken.  It's simple to prepare – done in a slow cooker while I was at work.  The bite of the tomatillo salsa and the creamyness of sour cream is a great blend.  I served it with brown rice and roasted vegetables. For dessert, my Apple Crisp – how cozy is that!  Happy Housewarming!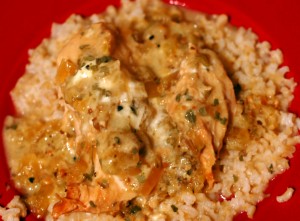 Tomatillo Chicken
Ingredients:
6 boneless, skinless chicken breasts
1 videlia onion, diced
2 garlic cloves, minced
1 tsp ground cumin
1 tsp dried oregano
1 tsp salt
1 tsp pepper
1 Tblsp lemon juice
1 cup tomatillo salsa
1 1/2 cups sour cream
Instructions:
Place the chicken breasts in a slow cooker.
Mix the remaining ingredients , except the sour cream, in a bowl and pour it over the chicken.
Cook in a slow cooker on LOW 6-8 hours or HIGH 3-4 hours,
Remove the chicken and stir the sour cream into the sauce, until fully blended.
Serve over rice.