Outdoor Concert Dining – Part Deux.  The first post focussed on supplies, including my ready-to-go picnic basket.  Today it's all about the food.
There are a couple of things to consider when planning a menu for such an excursion.
Space……..  As much as I enjoy this alfresco dining experience, unlike a traditional picnic where you have room to spread out, space is often tight. At Chastain, you barely have room to spread your elbows without hitting your tablemates.  The tables for 'six' are sqwooshy.  (Anywhere else it would be considered a table for four).  If you're not sitting at a table, you can bring a tray table, but add  in a cooler and it can get cramped quickly.
Weather…….  One year, I was thrilled to see Harry Connick Jr.  We all brought different appetizers to share.  With  all our food spread everywhere, the heavens opened, the ponchos and umbrellas came out and the pate slid to the ground……
So, over the years, I've tried to find easier ways to make eating at a concert fun, no matter the space or weather.  I've found that rather than bringing a big spread with multiple dishes, it's best to plan a tapered down menu.  For me, this means one appetizer, a one-dish main meal and individual desserts.
Here are a few scrumptious ideas: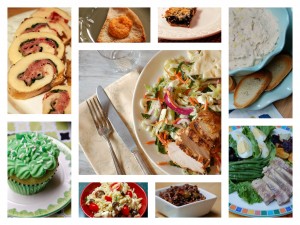 Appetizers – I like to serve appetizers that don't require utensils, so dips are perfect. Serve with chips, crackers or cut up veggies.  If you serve a mayonnaise based dip, be sure to keep it cooled appropriately during transport.
Main Dish – I generally prefer one-dish, main dishes for this type of event. Salads work well, just cut the ingredients into bite-size pieces. I like to pack the dressing separately and usually make a vinaigrette, rather than a creamy dressing. A favorite one-dish main meal is my Asian salad topped with grilled or rotisserie chicken. (Serve it in individual chinese takeout boxes for plate-less dining.) For utensil free dining, serve wraps !
Desserts – Individual portions are best – no need for extra plates and serving  utensils.
lemon bars
chocolate covered strawberries
Beverages – Be sure to find out if you can take alcoholic beverages and/or glass containers into the venue.  Wouldn't you hate to lose a nice bottle of wine! Don't forget the water, to stay hydrated.
Got any favorite dishes you like to take to concerts? I'd love hear about them.