Last Saturday I hosted my 5th annual Cookie Swap.  5 years!! I guess it's officially a tradition now.  Anyway, today, I'm sharing this year's cookie recipe with you.  Choosing a cookie for the swap is always an adventure.  Since I also cook lunch for my guests – 17 this year  – I like to select a cookie that isn't too difficult and makes a lot in one batch.  This year I made  Chocolate Pistachio Sables – a recipe I found in bon appetit magazine. According to Wikipedia, a Sablé is a French round shortbread cookie, originating in Sablé-sur-Sarthe, in Sarthe.  All I know it they are super easy and delicious.  Butter, bittersweet chocolate, pistachios and sea salt- what's not to love!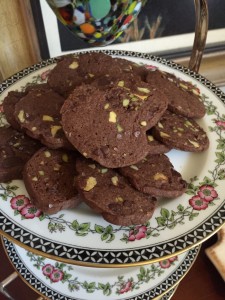 I was working during the week and wanted to make the cookies in advance, so I made the dough one evening and baked them the next, which worked out perfectly.  The key here is making sure the butter is room temperature, so it creams up nicely with the brown sugar and vanilla.  Then the dry ingredients, including lots of cocoa, are mixed in , followed by an egg white and chopped bittersweet chocolate and pistachios (which I chopped in the processor- be sure not to leave any big pieces, as this makes the slicing difficult!).  The dough is then rolled into 4 logs, wrapped and refrigerated for at least 4 hours – I refrigerated them for 24 hours. Just slice the logs crosswise into ¼ inch cookies, sprinkle with coarse sea salt and bake for 10-12 minutes. Voila!  The recipe says it makes 8 dozen per batch.  Which may be true, if you don't taste the batter too much…… I didn't get quite that many out of a batch.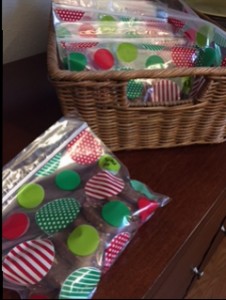 Since my swap is a pre-packaged swap, I packaged mine in these patterned zip bags I found at Hobby Lobby – so cute.  17 packages later, I was all set!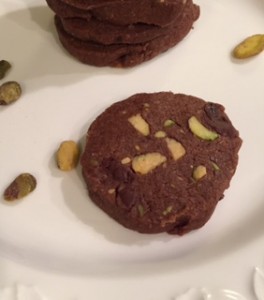 Chocolate Pistachio Sables
Ingredients
2½ cups all-purpose flour
½ cup unsweetened cocoa powder
¾ tsp kosher salt
¼ tsp baking soda
1¼ cups (2½ sticks) unsalted butter, room temperature
1¼ cups (lightly packed) light brown sugar
1 tsp vanilla extract
1 large egg white
5 oz. bittersweet or semisweet chocolate, chopped
1 cup unsalted, shelled raw pistachios, coarsely chopped
Flaky or extra coarse sea salt
Instructions
Whisk flour, cocoa powder, kosher salt, and baking soda in a medium bowl. Set aside.
Using an electric mixer on high speed, beat butter, brown sugar, and vanilla until light and fluffy, about 4 minutes.
Reduce speed to low and gradually add dry ingredients; mix just to combine, then mix in egg white. Fold in the chopped chocolate and pistachios.
Divide dough into 4 pieces. Roll each piece into an 8"-long log about 1½" in diameter, pushing dough together if it feels crumbly. Be sure to flattened the ends of the logs.
Wrap tightly in parchment paper and chill until firm, at least 4 hours. (The colder your dough, the easier it will be to slice. I chilled the logs for 24 hours.)
Place racks in lower and upper thirds of oven. Preheat the oven to 350°.
Working with 1 log of dough at a time, cut logs into ¼"-thick rounds, using a serrated knife. Transfer the cookies to 2 parchment-lined baking sheets, spacing ½" apart.
Sprinkle cookies with sea salt and bake, rotating baking sheets halfway through, 10–12 minutes. Transfer to wire racks and let cool.
Store in an airtight container.
Notes
Recipe Source: Bon Appetit magazine
http://ascrumptiouslife.com/chocolate-pistachio-sables-2/