If you follow alot of food blogs, you'll undoubtably notice that everyone seems to be blogging about cookies today.  That's because today is the day all the participants in the 2012 Great Food Blogger Cookie Swap post about their cookies.
This is the second year for the swap and over 400 bloggers are participating.  Organized by Lindsay of Love and Olive Oil and Julie of the little kitchen, this year also included a charity element, with each participant donating to Cookies for Kids Cancer.  In mid November, each participant was given 3 names, fellow bloggers to send a dozen cookies.  We, in turn, also receive 3 dozen cookies — which gave me, who doesn't check her mail that often, a great incentive to visit the mailbox more regularly.
Last year I participated  with my Gingerbread Biscotti with Lemon Glaze.  This year's recipe is Shortbread with white chocolate , pistachios and dried cranberries.  The shortbread is delicious on it's own, but I decided to make it a little more festive with the red, green and white toppings.
Shortbread is pretty easy to make – just three ingredients – butter, sugar and flour – that's it!  The bonus is how good your home will smell.  I must say, that if you only made these to enjoy the smell while they're baking, it would be worth it. This recipe makes an entire sheet pan's worth of cookies, so if you need alot of cookies -like, say, for a cookie swap? – (or lots of gifts) here's the perfect solution. Just for the record, I cut 77 cookies this time. (That's 6 dozen, plus 5 for me !)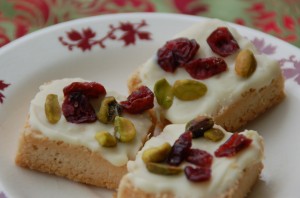 Shortbread with White Chocolate, Pistachios and Cranberries (makes 1 sheet pan)
Ingredients:
1 lb (4 sticks) butter, room temperature
1 cup sugar
4 cups flour
1-11 oz bag of white chocolate chips
Shelled, unsalted roasted pistachios (I get them at Trader Joes)
Dried cranberries
Instructions:
Preheat oven to 350 degrees F.
Cream the butter and sugar with a mixer or by hand.
Add the flour, in two sessions, and mix a wooden spoon.  You may need to use your hands to get all the flour incorporated.
Put the batter into a sheet pan and use your hands to push it so it covers the entire pan.  Use a knife to flatten the edges and smooth out the batter.
Prick the batter (down to the pan) with a fork, all over .
Bake at 350 degrees F for 10 minutes.
Reduce the temperature to 300 degrees F and bake for 40 more minutes.
Remove the pan from the oven and let rest for 2 minutes, then cut the cookies. They will be soft but will stay in place.  Cool in the pan.  (Warning: Don't wait too long to cut the cookies or they will be too  hard to cut)
Melt the white chocolate either in the microwave (stirring every 20 seconds) or in a double boiler.
Remove the  cookies from the pan.
Spread one side of each cookie with the melted chocolate. Sprinkle with the pistachios and dried cranberries
Place on a cool pan or rack to allow the chocolate to set.
Note: Depending on the size of your cookies, you may want to chop the pistachios and dried cranberries.