I started a scrumptious life for several reasons. I love food, I wanted to learn about blogging, friends always asked me for recipes and I wanted to have an electronic copy of my favorite recipes to point them (and myself) to.  Before the blog, I wrote down tried and true recipes (meaning it was successful several times) into a cooking binder.  Then, whenever I traveled to somewhere with a kitchen, I took 'the binder' with me, in case I needed a recipe.    Now I can look up a recipe on my ipad or phone!
btw – did you know that you can make any favorite site an icon on your phone or ipad? Just go to the site in safari and hit the arrow as if to send it as a message or email– there's an option to 'add to home screen'.  This option creates a icon on your phone. I've set this up on my phone and my mom's ipad, making it easier to reference my site and recipes.
Anyway, over the last 3 1/2 years, I've slowly posted most of the recipes from that binder.  The other day I realized, I hadn't posted a recipe for Classic Chocolate Chip Cookie recipe, a basic for every cook. This is basically the traditional Tollhouse recipe. The last time I made the cookies with big bittersweet morsels and pecans.  I also changed up the sugar to brown sugar ratio a little.  I forgot to add a sprinkle of sea salt on the cookies before baking, I think it would be the perfect finishing touch!
Who doesn't like chocolate chip cookies, especially straight out of the oven, when the chocolate is still melty – mmm,  a little piece of heaven! ….. and with an easy recipe like this, who needs storebought!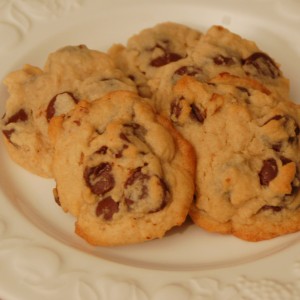 Classic Chocolate Chip Cookies
Ingredients
2 1/4 cups all-purpose flour
1 tsp baking soda
1 tsp salt
1 cup sugar
1/2 cup dark brown sugar
2 sticks unsalted butter, softened
1 tsp vanilla
2 eggs
2 cups (12 oz) large bittersweet chocolate morsels
1 cup pecans (optional)
Instructions
Preheat oven to 375 degrees F.
Line cookie sheets with parchment paper.
Combine the flour, baking soda and salt. Set aside.
In a mixing bowl, cream the sugars,butter and vanilla.
Add the eggs and mix to combine.
Add the flour mixture, a third at a time, mix to combine after each addition.
Stir in the chocolate chips and nuts (optional).
Spoon heaping tablespoons of the batter onto the cookie sheet.
Bake cookies for 9-11 minutes.
Remove cookies to a wire rack to cool.
http://ascrumptiouslife.com/classic-chocolate-chip-cookies/