What fun ! – a cookie swap for food bloggers.  Apparently, alot of people also thought this was a great idea, because 625 bloggers are participating in The Great Food Blogger Cookie Swap 2011 (#fbcookieswap) – organized by Lindsay of 'Love and Olive Oil' and Julie of  'the little kitchen'.  Just think – that's 22,500 cookies! WOW !  Thanks so much Julie and Lindsay – what a big effort this turned out to be!!!
Here's how it worked – Julie and Lindsay sent each participant three blogger 'matches'.  Then everyone baked three dozen cookies and sent 1 dozen to their three matches. Finally, everyone is posting their recipe on their blog on December 12th.   Oh, and the best part?  I'm getting three dozen cookies back myself!
So what cookie should I make?  Well, I definitely needed to bake something that travels well, since my packages had to make it to Massachusetts, New York and Hawaii !!  I decided to bake Gingerbread Biscotti.  Biscotti is good for shipping (at least I hope so !) and is a favorite of mine for holiday gifts – and nothing says the holidays like gingerbread.
I'd never made gingerbread biscotti before, so I started with a recipe that I found on the internet, but my first two batches, although they tasted ok, just weren't quite right – the batter was much runnier than I was used to.  In fact, I was a day late in mailing the cookies because I just wasn't happy with my results – so I made one last batch and finally got the dough consistency I was after. Whew!!  I kicked it up a notch by topping the cookies with lemon icing and a sprinkle of crystalized ginger.
I hope my matches like their cookies (and I hope they arrived in one piece – if not – they'd make a great crust for a cheesecake) !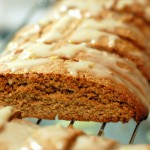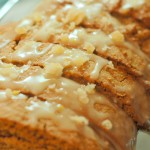 Gingerbread Biscotti (makes 36 cookies)
Ingredients:
1/3 cup canola oil
1/4 cup molasses
1 cup sugar
3 eggs
2 1/4 cup all purpose flour
1 1/4 cup whole wheat flour
1 Tblsp baking powder
1 1/2 Tblsp ground ginger
3/4 Tblsp cinnamon
1/2 Tblsp cloves
1/4 tsp nutmeg
1/4 tsp salt
1/4 tsp black pepper
Instructions:
Preheat oven to 375 degrees F.  Grease a baking sheet pan.
Mix the oil, molasses, sugar and eggs in a mixing bowl.
In a seperate bowl , mix the remaining ingredients,
Add the dry ingredients into the egg mixture, in thirds, and mix to combine,  This will produce a stiff dough.
Shape half the dough into a long log, approximately 3 inches wide, and 1 1/2 inches high. Place onto the greased sheet pan.  Repeat with remaining dough.
Bake for 25 minutes.
Remove logs from the oven and cool.  When cool enough to handle, cut into cookies, either crosswise or on a diagonal.
Place the cookies, cut side down and bake for 5 minutes. Turn the cookies and bake on other side for another 5 minutes.
Remove from oven and place on a cooling rack.
Prepare the icing and spread or drizzle over the top of the cookies.  Sprinkle with crushed crystalizedginger.
Keep in airtight container.
Icing: Mix 1 1/4 cup confectioners sugar with the zest and juice of one lemon. Stir well to incorporate all the sugar.