This month's Mac Attack challenge from  MacTweets was all about Valentines – and nothing says Valentines like Chocolate and Roses.
When my late husband and I were dating, my mother came to visit me around Valentines Day.  Not that he was sucking up trying to make a good impression or anything, but he arrived at my place,  on Valentines Day, with his arms full of roses and chocolates for everyone. (Me, Mom, his daughter and my roommate !!!)  So, it may be cliché, but it seemed a natural to incorporate these two flavors into my macarons  this month.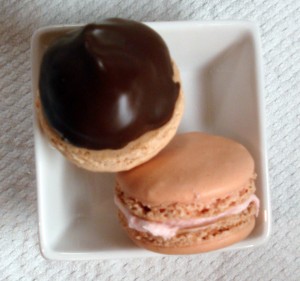 As you can see from the photo above, the rose macarons are pretty basic.  I substituted a teaspoon of rose-water for the regular vanilla in the shells and spread rose flavored buttercream in between.  The taste, however, is a little unexpected for the American palate.  The 'chocolate'  macarons, though, are a little different. I turned plain almond macaron shells into Sarah Bernharts.  These treats, named for the famous actress, originally featured an almond cookie (more of a macaroon), with a creamy chocolate layer that was also dipped in chocolate.  How decadent !
I was first introduced to Sarah Bernhardt cookies, by my best friend in high school, at a bakery in Greenwich, Ct.  Years later, I couldn't find them in local bakeries; but I did come across a recipe in a cookbook – Chocolate, Chocolate, Chocolate.  For several years I made them every Christmas.  My stepmom especially loved these treats.  So, I'd give her , her own special box – just for her.   Originally, I began with Lazzaroni amaretti cookies, added a chocolate truffle layer and then coated the truffle in chocolate.  When I started experimenting with macarons, I thought 'how about a Sarah Bernhardt using macarons instead' ?  So I baked plain macaron shells, using almond extract instead of vanilla.  Then I made truffles and pressed them (gently) to the macaron shells.  After resting for 30 minutes, I dipped the truffle half in Chocolate Glaze. YUM !!  I've included the recipe below.
So Belated Valentines Day to you all !  Here's the Valentines gift I gave a few special friends (and my stepmom)- a little box with a selection of macarons – rose, almond with Nutella and Sarah Bernhardts.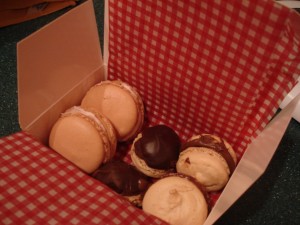 Sarah Bernhardt Macarons (makes 20)
Ingredients:
1/4 cup (1/2 stick) unsalted butter, softened
1 1/2 cups confectioners sugar, sifted
2 oz unsweetened chocolate, coarsely chopped
1 1/2 teaspoon instant espresso powder
2 Tablespoons amaretto
1/8 teaspoon salt
20 macaron shells (made with almond extract rather than vanilla)
4 oz bittersweet chocolate
1 tablespoon vegetable oil
Instructions:
Mix the butter and sugar in a bowl.
Melt unsweetened chocolate with the espresso powder, amaretto and salt.
Add the melted chocolate mixture to the butter/sugar mixture and mix with a fork until smooth.
Chill until firm enough to handle.
Roll mixture into 20 balls.
Press each chocolate ball DELICATELY onto the flat side of the macaron shell.
Mold and round the ball to cover the bottom of the shell completely.
Let stand for 30 minutes to set.
As the cookies rest, prepare the Chocolate Glaze by melting the bittersweet chocolate and vegetable oil slowly, stirring constantly.
Dip the truffle side of the cookies into the Chocolate Glaze.
Place the dipped cookies on a wire rack to set, shell side down.
Store in refrigerator.
Bring to room temperature before serving.