I'm responsible for the snacks at this month's team mtg, at work.  It's a great opportunity to try this Sour Cream Lemon Loaf – from my mom's recipe file.  It's pretty easy, especially if you keep a box of pound cake mix in the pantry- which I will after tasting this. Don't skip the glaze – it makes all the difference!!  I'll add a bowl of fruit for those people trying to be 'good' and I'm done!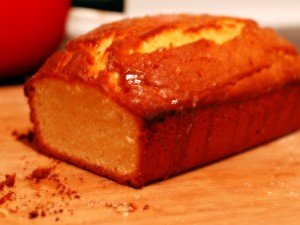 Sour Cream Lemon Loaf (makes one loaf)
Ingredients:
1/2 cup sour cream
1/2 cup vegetable oil
2 eggs
2 tsp grated lemon zest
1 tsp lemon extract
1 – 16 oz box pound cake mix
3/4 cup confectioners sugar
2 Tblsp lemon juice
1 tsp grated lemon zest
Instructions:
Preheat oven to 350 degrees F.
Grease a 9×5″ loaf pan.
In a mixing bowl, beat the sour cream, oil, eggs, lemon zest and lemon extract together.
Add the pound cake mix and beat to incorporate.
Pour batter into loaf pan and bake for 50-60 minutes.
Cool loaf.
Mix together the confectioners sugar, lemon juice and lemon zest to make a glaze.
Using a skewer, poke holes in the loaf.  Drizzle the glaze over the loaf.