I love blueberries – and now's the time to stock up.  I buy them, put them on a sheet pan and freeze them individually, so they don't end up in a big clump. I store them in the freezer and can easily get a handful for a recipe, or just to add to my oatmeal.
Here's a recipe from allrecipes.com for Blueberry Crumb bars, that uses fresh or frozen berries. These bars would be a great dessert to take to your July Fourth picnic or barbecue – no plate or fork needed.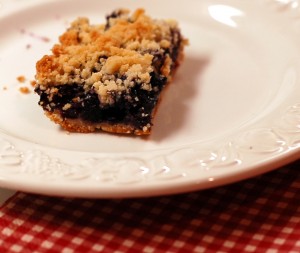 Blueberry Crumb Bars
Ingredients:
1 cup white granulated sugar
1 tsp baking powder
3 cup all purpose flour
zest of 2 lemons
1/2 tsp kosher salt
1 egg
1 tsp vanilla extract
1 cup (2 sticks) unsalted butter, cold, cut into cubes
4 cups blueberries, fresh or frozen
1/2 cup white granulated sugar
3 tsp cornstarch
Instructions:
Preheat oven to 375 degrees F.
Line a 9×13 pan with parchment paper. Spray with nonstick spray.
Put 1 cup sugar, baking powder, flour, lemon zest and salt in a food processor. Pulse to blend.
In a small bowl, whisk the egg and vanilla until combined.
Add egg mixture to the processor, along with the butter.
Process to blend.  Mixture will be crumbly and butter will be broken into smaller pieces.
Pat half the dough into the prepared pan.
Stir together the 1/2 cup sugar and cornstarch. Add blueberries and toss gently with hands to coat the berries.
Layer the blueberry mixture over the crust.  Sprinkle the remaining dough over the berries.
Bake for 45 minutes or until the top is slightly brown.
Cool completely before cutting into squares.