Ahhhhh, I love the holidays, but I also like when they're over.  Not that I'm a Grinch, but I love having things back to normal.
All the decorations are put away (in fact I bought some daisies, one of my favorite flowers, to freshen up the place).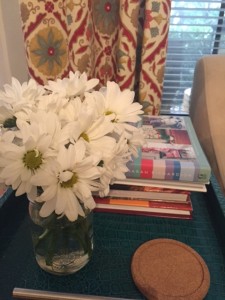 There's a nice calm around the house and there's now time to relax and read a book or watch a movie (without worrying about that gift, party or other holiday to-do).  What book are you starting off the year with?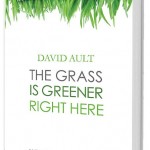 I'm reading David Ault's new book The Grass is Greener Right Here  – a collection of David's life experiences with acceptance, gratitude, loss  and  compassion  ….. and the lesson's he's learned along his spiritual path.  I've almost finished reading the book (which, btw, is recommended by Louise Hay!).  Then I plan to re-read it  and answer the questions David poses at the end of each chapter, provoking  the reader to ask/answer some tough questions that will spark awareness and growth.  It begins with a quote by Eckhart Tolle ( The Power of Now) and one of his reviews on Amazon compared the two books.  I, however, find this book much more compelling (and less repetitive) because of David's storytelling.  It's a great read for the New Year!
… and what better accompaniment to a good book, than hot chocolate?  Here's a "couldn't be simpler" recipe for Nutella Hot Chocolate that's perfect for sipping with a book or movie – and I really do mean it couldn't be simpler.  Just heat some milk, whisk in some Nutella, espresso powder and a dash of cinnamon, until the Nutella melts and the mixture is steamy.  (Steamy, not boiling… then you'd have to wait to drink it!)  The biggest decision to make is whether to have it with marshmallows or whipped cream!  I like those kind of choices!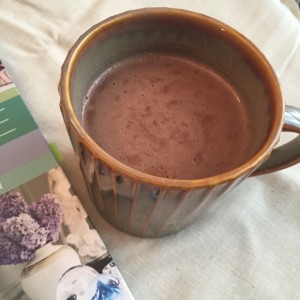 And in case you need a nibble to go alongside…. try these recipes for biscotti– perfect for dunking!
Ingredients
1 1/2 cup milk (any kind - I used almond milk)
1/4 cup Nutella ( chocolate hazelnut spread)
1/8 tsp espresso powder
dash of cinnamon
Optional Toppings: Whipped cream, chocolate shavings, marshmallows)
Instructions
Heat the milk on medium high, until small bubbles appear around the edge of the pan.
Add the Nutella, espresso powder and cinnamon and whisk until the Nutella is melted and the mixture is steamy.
Pour the mixture into a nice BIG mug and add toppings, as desired.
http://ascrumptiouslife.com/nutella-hot-chocolate/