Ever have one of those weekends where you need to provide a dish for a few events?  When I come across that situation, I try to keep it simple by finding a recipe that will work for all the occasions. It's so much easier to double a recipe or make the same recipe a few times.  A few weeks ago, I'd signed up to bring a dessert to a work picnic on Friday at lunchtime, threw a birthday dinner for a friend on Friday night and was responsible for dessert  for a lunch on Saturday.  Cupcakes was the perfect answer.  I made mini cupcakes for the two lunches and regular sized cupcakes for the birthday party.
I made two flavors, but the hands down winner was the Buttermilk Chocolate Cupcake with Nutella Frosting – chocolate and Nutella – what's not to love?!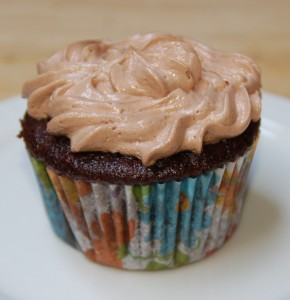 Buttermilk Chocolate Cupcake with Nutella Frosting
Ingredients
3/4 cup all-purpose flour
3/4 cup sugar
1 teaspoon baking powder
1/2 teaspoon baking soda
1/4 teaspoon salt
6 tablespoons unsweetened cocoa powder
3 tablespoons unsalted butter, melted
6 tablespoons buttermilk
1 large egg
1 large egg white

Frosting

1 cup (2 sticks) unsalted butter, softened to room temperature
2 cups powdered sugar
3/4 cup Nutella
3-4 Tablespoons heavy cream
2 teaspoons vanilla extract
1/4 tsp salt to taste
Instructions
Cupcakes

Preheat oven to 350 degrees. Line standard 12-cup muffin tin (or two 6-cup muffin tins) with paper liners.
In a large mixing bowl, combine flour, sugar, baking powder, baking soda, and salt; set aside.
Using a mixer, combine cocoa and 3 tablespoons hot water, mixing into a paste.
Add butter, buttermilk, egg, and egg white to the chocolate paste and beat until combined.
Add the dry ingredients to the batter, in thirds, and mix until smooth.
Spoon the batter into the prepared tin.
Bake until a toothpick inserted in the center of a cupcake comes out clean, about 20 minutes. 10 minutes for mini cupcakes).
Remove the cupcakes from the oven and cool completely in a wire rack.

Frosting

Cream softened butter on medium speed for 2-3 minutes until smooth and creamy.
Add 2 cups of powdered sugar and continue to beat to combine.on medium speed.
Add the Nutella, 3 Tblsp heavy cream and the vanilla extract and mix to combine. (If the frosting is too thick, add more heavy cream (1 Tblsp at a time). If the frosting is too thin, add more powdered sugar (1/4 cup at a time).
Taste the frosting and add salt to cut the sweetness, if desired.
Frost cooled cupcakes with frosting. I like to use a pastry bag.
Notes
Frosting recipe from http://sallysbakingaddiction.com/
http://ascrumptiouslife.com/buttermilk-chocolate-cupcake-with-nutella-frosting/