I really enjoy Mexican Hot Chocolate.  That sinfully rich drink with the surprise kick of cinnamon and spice.  So, imagine that, now, in a brownie.  Yes, I can see you salivating, right now.  That's how I felt, when I ran across this recipe on Smitten Kitchen.  It's actually quite close to a brownie recipe I've used for years – but with a few magic ingredients that really kick it up a notch. This recipe fits a 9×13 pan, so there will be no squabbling over the last brownie, well maybe not quite so soon.  These are perfect with a glass of milk, or red wine for the adults.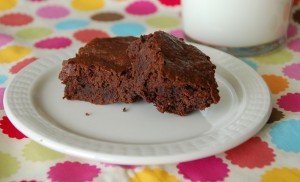 Mexican Brownies  (fits a 9×13 pan, you decide how many brownies that is)
Ingredients:
1 1/2 cup all-purpose flour
1 tsp salt
2 Tblsp unsweetened cocoa powder
1 tsp chipotle powder
3/4 tsp ground cinnamon
1/4 tsp ground cardamom
11 oz dark chocolate (60-72% cacao), coarsely chopped  (I used 3-3.5oz trader joe's bars)
1 cup (2 sticks) butter – cut into 1-inch pieces
1 tsp instant espresso powder
1 1/2 cup granulated sugar
1/2 cup light brown sugar, firmly packed
5 large eggs, room temperature
2 tsp vanilla extract
Instructions:
Preheat oven to 350 degrees F.
Butter the sides and bottom of a 9×13 glass or light metal baking dish.
Whisk the flour, salt, cocoa powder and spices, in a medium bowl. Set aside.
Put the chocolate, butter and expresso powder in a large bowl, over a saucepan of simmering water, stirring occasionally, until the chocolate and butter are melted and smooth.
Turn off the heat, leaving the bowl over the saucepan, and add the sugars.  Whisk until completely combined.  Remove the bowl and rest until the chocolate mixture cools to room temperature. (Very important or you'll end up with scrambled eggs in the next step)
Add 3 eggs to the chocolate mixture and whisk until combined.  Add the remaining eggs and whisk until combined.
Add the vanilla to the chocolate mixture and stir until combined. (Don't overbeat!)
Sprinkle the flour mixture over the chocolate mixture. Fold the flour mixture into the chocolate, until just incorporated.
Pour the batter into the prepared pan and smooth the top.
Bake at 350 degrees for 30 minutes, turn the pan halfway through.  Remove the pan from the oven when  a toothpick inserted in the center comes out  with a few moist crumbs.
Cool completely.