When I was growing up, there was frequently a bundt cake in our kitchen.  Lemon, orange, marble – you name it.   A few weeks ago, I realized that I'd never made a bundt cake myself!! How funny! Well, this week, I had to bring a dish to a pot luck – the perfect opportunity to remedy the situation. I decided to make a pumpkin chocolate bundt cake. Pumpkin because it was a Thanksgiving pot luck  (and I had the pumpkin in the pantry). Chocolate because, well ….it's chocolate.
I started looking on the internet and found lots of bundt recipes and even a bundtamonth group. Who knew??  So I decided to use this recipe from baker street – with reduced amounts because my pan is smaller than her recipe calls for. I topped it with a simple glaze and pumpkin seeds.  The result? – a wonderfully moist cake that I'll definitely make again.
Now I can check bundt cakes off my 'how come I've never made this ?' list.  Ahhh, not a bad idea for a series……  (watch this space).
BTW – I thought it would be great to make my Chocolate Zucchini bread recipe in a bundt pan – but how to convert it from the loaf recipe? Allrecipes had this great information on how to convert pan sizes. Turns out I'll need 1.5 times  the loaf recipe to make a bundt cake. Oh the possibilities…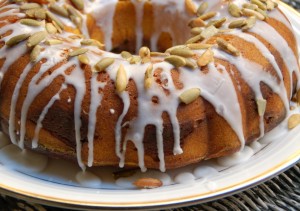 Pumpkin Chocolate Bundt Cake (makes 1 12-cup cake)
Ingredients:
 1½ cups butter, at room temperature
3 cups sugar
6 large eggs
2 teaspoons vanilla
1¼ cups pumpkin puree
2¾ cups all-purpose flour, divided
2 teaspoons baking powder, divided
1 teaspoon salt, divided
2 teaspoons pumpkin pie spice mix
¾ cup Dutch-processed unsweetened cocoa
⅔ cup buttermilk
Glaze (recipe below)
Roasted pumpkins seeds (optional)
Instructions:
Preheat oven to 350 degrees F and generously grease and flour a 12-cup Bundt cake pan. Set aside.
In a large bowl, beat butter and sugar until creamy.
Add in eggs one at a time, beating after each egg. Add in vanilla and beat until combined. Divide the batter into two bowls.
To make pumpkin batter: Beat the pumpkin into one half of the batter. In a separate bowl, stir together 1¾ cups of the flour, 1 teaspoon baking powder, ½ teaspoon salt and the pumpkin pie spice in a separate bowl. Add the flour mixture to the pumpkin batter and mix just until blended.
To make chocolate batter: In a separate bowl, mix together 1 cup flour, 1 teaspoon baking powder, ½ teaspoon salt and the cocoa powder and then add alternating with the buttermilk (starting and ending with flour mixture) to the second mixing bowl and mix just until blended.
Spoon half of the pumpkin batter into a greased and floured 12-cup Bundt cake pan. Drop half the chocolate batter over the pumpkin batter. Repeat using the rest of the pumpkin and chocolate batters.
Run a butter knife through the cake mixture center of the pan several times. Then swirl by running the knife the other way in strokes 10 or so times around the entire pan.
Bake at 350 degrees F for 55-60 minutes.
Allow to cool for 10-15 minutes before inverting and releasing the cake. Cool on a wire rack.  Drizzle with the glaze and allow to sit until glaze is set.
To make the glaze: Whisk 1 cup confectioners sugar with 1-2 Tblsp milk (Start with 1 Tblsp and add the rest as needed).  Drizzle over the cooled cake. Sprinkle pumpkin seeds over the glaze.