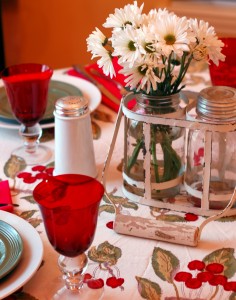 My June dinner party was a casual Sunday Supper with a mixed bag menu.  Salsa to start, Oriental inspired main and side dishes, and an 'all-american' dessert -an example that not every meal needs to have a 'theme'.  Sometimes you just want to serve dishes you like or you have the ingredients for. Sometimes you want to try a new dish – yes, I DO experiment on my friends. Luckily my friends are willing guinea pigs.)  The most important thing, as always, is to enjoy the time together.
After snacking on some homemade Salsa, our meal began with a napa cabbage salad with Sesame Vinaigrette.  It was followed with pork tenderloin, marinated in a Oriental Marinade, served with sauteed broccolini and roasted potatoes.  The dessert was Blueberry Tart , served with Lemon Buttermilk Sherbet from David Lebovitz's the Perfect Scoop.
The day before the party, I made the Salsa, Oriental Marinade, Blueberry Tart and Ie Cream.  The morning of the party, I added the pork to the marinade and boiled the potatoes.  Just before my guests arrived I got the pork and potatoes roasting in the oven, parboiled the broccolini and put the salad together.  Just before eating I sauteed the broccolini in little olive oil and sesame oil , adding a splash of rice wine vinegar and red pepper flakes, and added the dressing to the salad. I took the sherbet out of the freezer about 20 mins befoe serving.
Menu:
Salsa
Napa Cabbage Salad with Sesame Vinaigrette
Pork Tenderloin with Oriental Marinade
Roasted Potatoes
Sauteed Broccolini
Blueberry Tart
Lemon Buttermilk Sherbet
I love pork tenderloin.  I serve it often at dinner parties because it's easy, versatile and dependable.  I've learned (thanks, Ina) that it's best to cook pork until it reaches 137 degrees and then let it finish cooking as it rests.  The result is moist and tender. The old rule was to cook it until it reached 160 degrees which tended to leave the pork dried out by the time it reached the table.  Btw –  if you don't have a meat thermometer I'd recommend you get one.  It's a small investment that insures a much better result.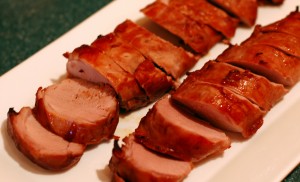 Oriental Marinade (for 2lbs of meat)
Ingredients:
1/2 cup soy sauce
2 Tblsp lemon juice
1 tsp ground ginger
1/2 tsp garlic salt
2 1/2 Tblsp brown sugar
Instructions:
Mix ingredients in a gallon sized plastic bag.
Add meat and marinate in the refrigerator for 6-8 hours.
Discard marinade after marinating.
Cook meat as  desired.