December is such a crazy month – so many parties,open houses, cookie swaps, neighborhood gatherings, recitals, not to mention shopping……Oh, for a nice calm night at home!  So this month's dinner party was a small affair – just me and a few of my dearest friends.
For the table decoration (sorry, I refuse to use the term 'tablescape') I mixed different shades of red and green and   used some really cute Christmas tree shaped plates for the salad course.  I don't know what they are really supposed to be used for, but they worked out just great!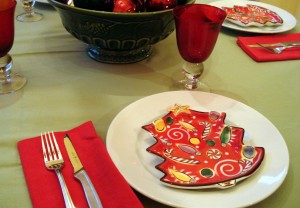 Menu:
Mixed Green Salad with goat cheese, gourmet pecans, dried cranberries and a raspberry balsamic dressing
Pork Tenderloin with Herb Marinade
Mashed Potatoes and Rutabaga with Caramelized Onions
Broccolini sauteed in lemon oil
Meringues with whipped cream and macerated strawberries
Let's break it down…….
Appetizer:  Since this was dinner for four, there was no need to have several appetizers.  I kept it easy by offering two different types of nuts.  As I've posted previously, I gave them as gifts this Christmas, so I had them at the ready and all I had to do was put them in a cute dish.
Salad: Sometimes simple is best – mixed greens, crumbled goat cheese, dried cranberries and gourmet pecans.   This can be put together in advance and kept in the fridge.  I tossed the salad with my favorite bottled raspberry balsamic dressing, just before serving and voila! 
Main Dish: This meal features an idea that I think makes a dinner party so much easier – prepare dishes that can be cooked together.  The pork tenderloin marinates in a plastic bag, the morning of the party, using a Barefoot Contessa recipe (see below). The pork roasts at 425 degrees F for 20 minutes, then the temp is lowered to 350 degrees F for 20-30 minutes.  Now, anyone that has done much cooking knows that 350degrees F is like the universal temperature.  Look in any cookbook and most of the recipes start with 'preheat  oven to 350 degrees'.  Anyway, with the pork cooking at 350 degrees F, I could then also bake my side dish at the same time!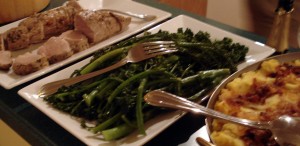 Side Dishes:  I served two side dishes with the pork.  The first was Mashed Potatoes and Rutabaga with Caramelized Onions — YUM !!!!  The beauty of this dish is that it can be prepared a day ahead and then reheated, at -you guessed it – 350 degrees.  See the recipe below.  The second side dish was Sauteed Broccolini.  What is broccolini, you ask?? Well. I , myself, was mistaken.  I thought it was young broccoli – WRONG !  Broccolini is a cross  between broccoli and Chinese broccoli.  It is similar to broccoli, but has smaller florest and longer, thinner( and more edible) stems.  To prepare it, put three bunches of broccolini in boiling water for seven minutes, drain it (well) and then saute it in a Tablespoon of lemon oil.  Now I know lemon oil is a specialty item, I only have it because it was a gift.  You could absolutely use olive oil and then sprinkle some lemon juice over the broccolini before serving.  I prepared this while the pork and potato/rutabaga were in the oven.
and finally Dessert:  What fun this was!  A layered desert with meringue, whipped cream and macerated strawberries served in a nice glass or goblet.  Since this dish needed to be assembled at the last minute, we took a short break in the meal.  We cleared off the dinner dishes, started up a pot of coffee and moved the party to the living room.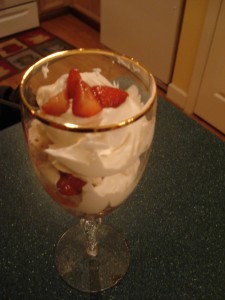 The individual ingredients can be prepared in advance and then assembled at the last minute.
Strawberries:  I made a syrup of sugar and pomegranate vinegar (yes, another gift).  Balsamic vinegar would be fine here too.  Heat 1/3 cup of the pomegranate vinegar and 1/4 cup sugar over medium heat until the sugar melts and the mixture reduces (thickens), about 10 minutes- stirring often.  DO NOT walk away from this – trust me, I had to make this twice because I let it go too long.  While the mixture is reducing , cut up the strawberries, leaving some small berries for garnish.   Once reduced, pour the syrup over the strawberries and let sit for no more than an hour before serving.
Meringues:  I used Trader Joes Vanilla Meringues.  You could make your own , but why?!  Take 2 meringues per person and break them up – don't crush them, you want chunky pieces here.
Whipped cream: Whip 1 cup of heavy cream with sugar to taste until peaks form.  Store in the fridge until ready to serve.  This would be a good time to use Reddi Whip, since you're putting the cream into a goblet and, of course, lactose intolerants can use Cool Whip.
Now for the assembly:  I served these in my 'good' crystal goblets (Lord knows the last time I'd used them!), but any glass would be fine.  Take a Tablespoon of the strawberries and put at the bottom of the goblet.  Follow this with alternating layers of meringue, whipped cream, strawberries, meringue , whipped cream……… ending with the whipped cream and top with a strawberry.  The result – YUMMY !  The slight zing of the vinegar mixed with the crunch of the meringues and the smooth whipped cream… the perfect ending to a delicious and fun evening.
Pork Tenderloin with Herb Marinade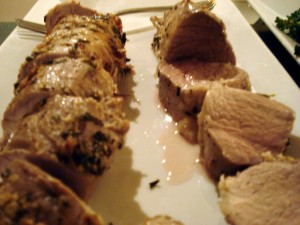 Ingredients:
Grated zest of 1 lemon
3/4  cup freshly squeezed lemon juice (4-6 lemons)
1/2 cup olive oil
2 Tablespoons minced garlic (6 cloves)
1 1/2 Tablespoons minced fresh rosemary leaves
1 Tablespoon chopped fresh thyme leaves
2 teaspoons Dijon mustard
2 teaspoons kosher salt
3 lbs pork tenderloin
Instructions:
Combine all ingredients in a plastic bag.
Add pork tenderloins and marinate for at least 3 hours , preferably overnight.
Preheat oven to 425 degrees F.
Transfer the pork, without the marinade, onto a sheet pan and roast  for 20 minutes.
Lower the temperature to 350 degrees F and cook for 20-30 minutes, until the temperature of the pork reaches 137 degrees.
Remove the pork and cover it with foil – let it rest.  The temp will rise as it rests.
Mashed Potatoes and Rutabaga with Caramelized Onions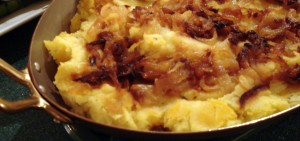 Ingredients:
1 1/2 lbs yukon gold potatoes, peels and cut into pieces.
1 1/2 lbs rutabaga, peeled and cut into pieces (cut 1/2 the size of the potato)
4 cups chicken stock
4 minced garlic cloves
1 bay leaf
1/2 teaspoon dried thyme
1 1/2 large onions, peeled and thinly sliced
6 Tablespoons butter, room temperature
Instructions:
Combine all ingredients except the onions and butter into a large stock pot and bring to a boil.
Reduce heat and simmer until the vegetables are fork tender (30 minutes).
Drain the vegetables and remove the bay leaf.
With mixer, mix the vegetables and 4 Tablespoons of butter.
Season with salt and pepper.
Put vegetables into a buttered 8×8 dish (or similar capacity casserole).
Melt the remaining 2 Tablespoons butter in a saute pan, using medium high heat.
Add onions and cook for 5 minutes.
Reduce heat to medium-low and continue cooking until onions are browned and tender, about 15 minutes.
Season with salt and pepper.
Top the vegetables with the onions.  Can be prepared to this stage,one day in advance, and refrigerated.
Preheat oven to 350 degrees F.
Bake  for 30 minutes until warmed through.