Here's a side dish that's as great with your Christmas roast beef, as with steaks or chicken off the grill, even with eggs for breakfast.  This simple yet versatile dish features fingerling potatoes, those little skinny potatoes that are so yummy and (bonus !!) don't need peeling. I've used parsley and thyme in this recipe , but rosemary would be delicious too.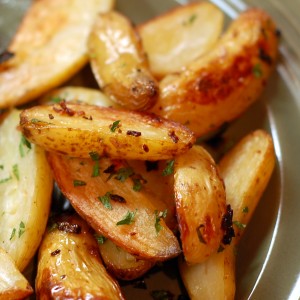 Roasted Fingerling Potatoes (makes 2 servings)
Ingredients:
2 Tblsp olive oil
1/4 cup chopped red onion
1 lb fingerling potatoes, cut into halves, lengthwise
1 tsp kosher salt, plus extra for boiling
1/2 tsp ground black pepper
2 Tblsp fresh italian parsley, chopped
1 tsp fresh thyme, chopped
Instructions:
Heat 2 qts of salted water to a rapid boil and add the potatoes.
Cook for 6 minutes and drain.
Toss the potatoes with the onions, olive oil, salt and pepper to coat. (Can be prepared 1 day ahead. Cool , then cover and store in the refrigerator.)
Preheat oven to 400 degrees F.
Place potaotes in a single layer on a baking sheet or dish.
Roast for 2o minutes.
Sprinkle with half the herbs and turn potatoes to coat.
Continue roasting until potatoes are brown and tender (approx 15 minutes)
Transfer to serving dish and sprinkle with remaining herbs.