It's so much more fun to watch major sporting events with friends.  This year the Atlanta Falcons made the playoffs !(This doesn't  happen very often!)  So, last  Thursday, I decided to invite some friends over for dinner and the game on Saturday night.  Unfortunately, the Falcons didn't fare too well…… but I scored alot of points with the dinner!
Since the game was the focus of the party, I didn't bother with a table setting.  The meal was served buffet style and my guests ate both in the dining room and in front of the TV.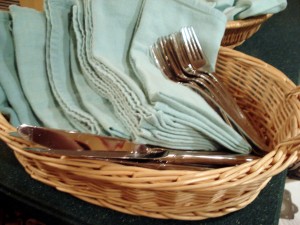 Menu:
Mexican Dip
Artichoke Dip
Cuban Pork
Roasted Vegetables
Black Beans and Rice
Here are the details……
Appetizers:  As with most of the dishes, I went with two tried and  recipes – Mexican Dip and Artichoke Dip.  You'll find the recipes in an upcoming 'Super Bowl Appetizer' post.
Main Dish:  Cuban Pork – you can't get much easier than this!  Honestly !!!  Take a Pork – Boston Butt (thaw, if previously frozen) and trim off any large fatty portions. Place the pork in a crock pot. Pour 'Mojo Criollo' marinade over the pork, covering the meat and onions.  ('Mojo Criollo' marinade is a bottled blend of citrus juices and spices.  You can find it in the Latin section of your grocery store.)  Plug in the crockpot , turn to high temperature, put the lid on the pot and let it cook for eight hours.  After eight hours pull out the pork – it will be falling off the bone. Separate the pork with a fork, as with pulled pork.  That's it !!!  Serve the pork with a little of the juice.
This pork freezes beautifully – freeze the pork with extra juice, so it will stay moist when you thaw and reheat it.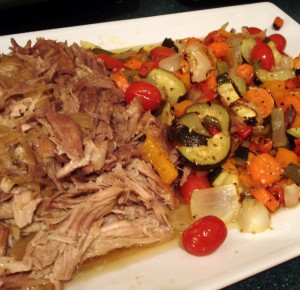 Side Dishes: I served two side dishes – Roasted Vegetables and Black Beans and Rice.  Roasted Vegetables is a great dish to have in your repertoire.  The beauty of the dish is you can use whatever vegetables are in season.  One of my favorite vegetables for this recipe is peeled eggplant, but I didn't have one on hand.  So, for this meal, I roasted red, orange and green peppers, sweet onions, zucchini, carrots and grape tomatoes.
Roasted Vegetables   (8-10 servings)
Ingredients:
3 carrots  – peeled and thinly sliced
2 zucchini – sliced in half lengthwise and then chopped in pieces
1 green pepper – seeded and chopped
1 red pepper = seeded and chopped
1 orange pepper – seeded and chopped
1 sweet onion, chopped
1/4 cup olive oil
3 Tablespoons lemon juice
Zest of 1 lemon
1 Tablespoon minced garlic
1 Tablespoon fresh rosemary (or 1 teaspoon dried)
1 Tablespoon fresh oregano (or 1 teaspoon dried)
1 teaspoon salt
1 teaspoon black pepper
1 container of grape tomatoes
Instructions:
Preheat oven to 450 degrees F.
Chop all the vegetables , a similar size, and put on a sheet pan or lipped cookie sheet.  If you are using vegetables that normally take longer to cook (ie carrots or potatoes, cut them smaller than the other veggies).
Whisk the remaining ingredients, except the tomatoes, in a bowl and pour over the vegetables.
Use your hands to toss the vegetables, so that all are coated with the dressing.
Spread the vegetables in a single layer on the sheet pan.
Roast for 15 minutes then toss the vegetables.
Continue roasting for 10 minutes.  Toss the vegetables again and add the grape tomatoes.
Roast for 10 minutes or until the vegetables are softened.
Black Beans and Rice.  I'll be honest, I often used packaged black beans and rice.  Black beans take quite a long time and I usually don't have that kind of time.  For this meal however I did make the black beans from scratch.  I used a recipe from ehow.com.  The recipe doesn't mention the number of servings, but I'd estimate 15 servings.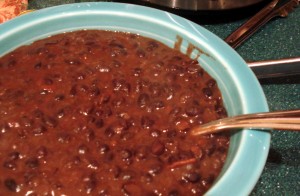 Black Beans and Rice
Ingredients:
1 lb. dry black beans
8 cups water
1 large onion, chopped
3 green peppers, chopped,
1 clove garlic, chopped,
1/2 cup olive oil
3 bay leaves
1 tbsp. salt
vinegar and raw chopped onion on the side (optional)
1 cup uncooked white rice.
Instructions:
Wash the beans thoroughly and soak  in 4 cups of water,overnight.
Add 4 cups of water
Saute the onion, peppers and garlic in the olive oil, lightly.
Combine the vegetables with the beans in water, bay leaves and salt.  Cover and cook on low heat for 3-5 hours until the beans are soft and the liquid has thickened. Stirring occasionally.
Cook the rice per package directions. Let stand for 10 minutes.
Serve the beans over the rice and top with vinegar and chopped onions (optional)
Dessert:   To continue the Cuban theme I served my Amazing Coconut Pie.  It's a custardy pie, so it's 'almost' like eating flan. I suggest you make two (in separate batches) because this pie's a winner !