Last summer I went to Paris and bought a 4×14 rectangular tart pan. Yes at E. Dehillerin. For those of you who don't know, (and I didn't , until I started researching a trip to Paris) E. Dehillerin is a great shop with all kinds of pots, pans , dishes and other kitchen 'needs' .  I make sure I stop in, every trip.  Two trips ago I got a wonderful copper oval baker.  Yes, you can get most of these items here in the States, but it's fun to remember that 'this is the pan I got in Paris'.  Anyway, I had visions of making savory quiches and luscious sweet fruit tarts, for all my dinner parties, in my new tart pan……  Well, here it is a year later and I realized I'd never used it!!  Time to make a tart.  Luckily blueberries are in the stores at a good price, so Blueberry  Tart it is.  As usual I went hunting on the web and found this recipe from  Baking Bites .  I originally selected it because she used the same size tart pan – but she also included some good hints, such as only cooking down half the blueberries, so you get a mixture of the cooked down sweet berries and the more tart flavor of the raw berries.  Overall, I had good success with this recipe.  But I should tell you – I am not a good pastry person.  It may be just lack of practice, but I got a big crack in the pastry.  But the blueberries covered it nicely. So that crack will be our little secret, no?  Another reminder that everything doesn't have to be "perfect".  My friends loved the tart – so I'll be making this again!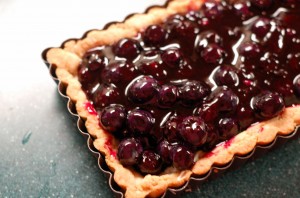 Blueberry Tart ( from Baking Bites) – makes 1-4×14  inch tart
Ingredients:
6 Tblsp butter, room temperature
1/4 cup sugar
1 large egg
1 1/3 cups all purpose flour
1/4 tsp salt
3 oz white chocolate
3 cups fresh blueberres, divided
3/4 cup sugar
2 Tblsp cornstarch
2 Tblsp water
Instructions:
In a large bowl, cream the butter and 1/4 cup sugar. Beat in egg, until incorporated.
Stir in flour and salt, until dough comes together.  Press dough into disc and wrap in plastic wrap.
Refridgerate for 1 hour.
Preheat oven to 350degrees F.
Roll chilled dough on a lightly floured surface until large enough to cover a tart pan (4×14 or 9,10 inch round).
Press into pan and upsides. Patch any tears with extra dough.
Poke bottom  crust a dozen times wth a fork.
Bake for 20-25 minutes, until edges begin to turn golden brown.  Cool completely.
After crust has cooled, melt white chocolate in a small bwl and brush on the inside of the crust.
Chill crust until ready to use.
Combine 1 1/2 cups blueberries and 3/4 cup sugar in a medium saucepan.
Whisk the water and cornstarch in a small bowl and add to the blueberry mixture.
Cook over medium-high heat until berry mixture comes to a simmer and begins to thicken.
Boil for about 1 minute, stirring occasionally.
Transfer berry mixture to a large bowl and cool to room temperature.
When berry mixture is cool, stir in the rest of the blueberries. Pour mixture into the crust and spread in even layer.
Refrigerate (up to two days) until ready to serve.