This month I decided to have a "Girl's Night"  dinner party – no boys allowed.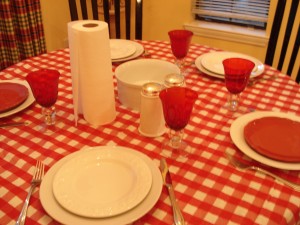 I chose a casual menu this month.  The star of the dinner was Shrimp Creole, featuring shrimp I brought back from my recent trip to Florida.  This is a fun, messy dish, with shell-on shrimp and corn on the cob – lots of peeling and sopping up the sauce. As you can tell – I used a vinyl table cloth,  my 'good' linens ( aka – paper towels), and a 'garbage bowl' for all the shells.  The relaxed setting made it easy for old and new friends to roll up their sleeves and dive into the meal and great conversation.  Who knew one of my friends lived in 'The Haight' in the 60's ??!!!
Menu:
Appetizer
Salad
Shrimp Creole
French Bread (for sopping up the sauce)
'Everyday  Chocolate Cake', Strawberries and Ice Cream
 This time I asked my friends to bring a few things instead of 'whatever you're drinking'. One friend brought french bread, another ice cream and a third brought goat cheese – when I could't make one more trip (!) to the grocery store.  Another friend was going to bring the appetizer, but had a family emergency – no worries – Trader Joes to the rescue.  I had their Vegetable Nests  in the freezer.  They go straight from freezer to oven and come with a tasty oriental dipping sauce.  They were delicious!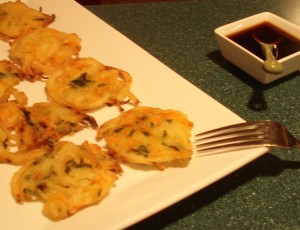 Tip/Plan B: Always keep a few appetizers ideas in the freezer or pantry.  Trader Joes has a great selection of frozen appetizers.  Look for future posts here on easy appetizers.
After a mixed green salad with goat cheese, dried cranberries, candied pecans and a balsamic dressing, it was time for the shrimp.  This is the perfect make ahead dish. Prep it in the morning, so the shrimp and corn can soak in the sauce all day.  When the shrimp are half done, warm up the bread in the same oven.  But don't let it get too hot – you'll want to be able to handle it, to sop up the sauce. I serve the shrimp in the same baking dish ( EVERYONE goes back for seconds!) and offer individual ramekins for extra sauce.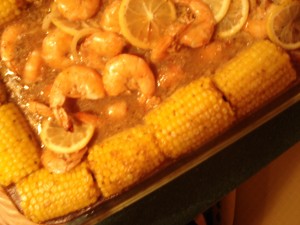 Shrimp Creole (serves 6-8)
Ingredients:
1 large bottle italian dressing
1 medium bottle worcestershire sauce
3-4 corn on the cob, cut in half  (I often use frozen 1/2 cobs)
3 lbs large shrimp, heads off, shells on
Tony Chacheres Creole Seasoning
Chopped Garlic or garlic powder
Italian herbs (I use a blend from Penzey Spices)
1 large videlia onion, thinly sliced
1 lemon , sliced
2 Tblsp butter, diced
Directions:
Mix the italian dressing and worcestershire sauce in a 9×13 or larger pyrex dish.
Coat top with creole seasoning, garlic and italian herbs.
Place corn cobs around edge of dish and turn to coat in sauce.
Place shrimp,in rows, in the middle of the dish. Make sure the shrimp is covered in sauce.
Cover and  refridgerate for several hours.
Top dish with sliced onions, lemons and diced butter.
Bake at 350 degrees until shrimp are pink, turning corn and shrimp every 8 minutes or so.
And for dessert ………     CHOCOLATE – what else would I serve for 'Girl's Night' ??!!  I tried the 'Everyday Chocolate Cake', recipe I found on Smitten Kitten –YUM !!  The only modification I made was to add a teaspoon of instant expresso to the batter.  I served it with strawberries and store bought ice cream.  If you want to make your own ice cream, which I often do,  David Lebovitz' Philadelphia Vanilla Ice Cream , from his 'Perfect Scoop' book would be, well, perfect!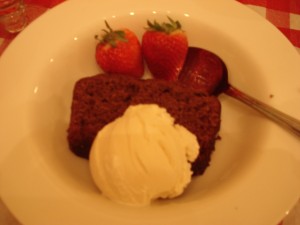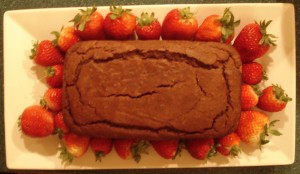 Sorry boys – maybe next time……….