Chips and salsa has become a stand-by at many get togethers. There are loads of bottled salsas available.  In fact, I've read that salsa has overtaken ketchup as America's top selling condiment.   Still, there nothing like homemade – so I pulled out this old recipe from Betty Rosbottom's Cooking School Cookbook.  It's a great basic recipe and tastes so fresh!  I usually serve it with chips (and a margarita).  But try adding some chopped mango or pineapple and serving it as a side with grilled fish or chicken.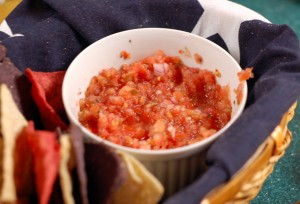 Salsa (makes 1 1/2 cups)
Ingredients:
3 medium ripe tomatoes
2 jalepenos (approx 2 1.2 inches long)
1 tsp minced garlic
1/2 cup finely chopped onion
1 Tblsp chopped cilantro
1/4 tsp sugar
1/2 cup tomato juice (optional)
Ingredients:
Deseed and dice the tomatoes and peppers.
Combine all ingredients, except the tomato juice, in a food processor.  Pulse until desired consistancy. (chunkier if serving as a side)
Add the tomato juice and store to combine.
Place in the refridgerator for 2 hours before serving.
Store in the refrigerator.
If adding mango or pineapple – Dice to same size as tomato and combine with other ingredients in step 2.