I LOVE fruit desserts.  This Apple Crisp is one of my favorites.  There's no crust, so it's a breeze to put together  and you can substitute lots of other fruits (blueberries are great!)   This recipe is an adaption of a recipe from The Silver Palate Good Times Cookbook.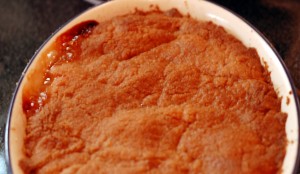 Apple Crisp (Serves 6)
Ingredients:
5 apples, peeled and sliced ( for a more rustic dish, leave the skins on).  I prefer the tartness of a Granny Smith apple, but I often mix several varieties.
1 1/2 Tblsp lemon juice
1 cup all purpose flour
1 cup sugar
1 1/2 tsp ground cinnamon
1/2 tsp salt
1/2 cup (1 stick) unsalted butter, cut into pieces
Instructions:
Preheat oven to 350F degrees.
Grease a 8 inch dish.
Place sliced apples in the dish, in layers, sprinkling with lemon juice.  Press down  to an even level.
Blend the flour, sugar, cinnamon and salt in the food processor.   Add the butter and pulse until the mixture resembles course meal.
Press crumb mixture evenly over apples making sure the edges seal.
Bake for one hour.
Serve warm with whipped cream or ice cream.