There's nothing like homemade ice cream and it had been years since I'd made some.  We'd owned one of the older types years ago.  You know, the kind that needed rock salt.  It did, at least, have a motor not a crank. But it was so noisy!! We would take it up to my B&SIL's lake house and eventually ended up leaving it there, since we never went to the trouble of using it at home.  So last year I bought a new ice cream maker.  This one is a 1 1/2 qt Cuisinart model and it's so easy to use.  I make sure to keep the 'bowl' in the freezer so I can make ice cream  at a moment's notice.
As soon as I bought the ice cream maker I went on a homemade ice cream binge.  I tried several different recipes- including Lime Basil, using some lime basil I'd grown on my patio.  Most of the recipes I tried came from David Lebovitz' book 'The Perfect Scoop', which I highly recommend.  His Philadelphia Vanilla is one of my favorite recipes and since it doesn't use eggs, I made it several times during last summer's egg scare.
Now that it's finally summer I couldn't wait to get out the ice cream maker again.  I'd had my eye on David's Roasted Banana Ice Cream recipe for some time and how convenient that I had ripe bananas.  So last weekend I made my first ice cream of the season.  Well, it was delicious!  My only substitution was using dark brown sugar instead of light brown sugar – because that's what I had in my pantry.  I served it with Trader Joe's 'Ultimate Vanilla Wafers' for a play on southern B'nana Puddin' . (It was also yummy as a midnight snack with mini chocolate chips!) Thanks David for another success!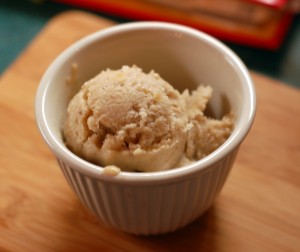 Roasted Banana Ice Cream
Ingredients:
3 medium sized bananas, peeled
1/3 cup packed light brown sugar
1 Tblsp butter, cut into small pieces
1 1/2 cups whole milk
2 Tblsp granulated sugar
1/2 tsp vanilla extract
1 1/2 tsp freshly squeezed lemon juice
1/4 tsp coarse salt
Instructions:
Preheat oven to 400 degrees F.
Slice the bananas into 1/2 inch wide pieces and toss them with the brown sugar and butter in a 2qt baking dish.
Bake for 40 minutes, stirring just once during baking, until bananas are browned and cooked through.
Scrape the bananas and syrup from the baking dish into a blender or food processor.
Add milk, granulated sugar, vanilla, lemon juice and salt.  Puree until smooth.
Chill the mixture in the refrigerator, then freeze it in your ice cream maker, according to the manufacturer instructions. (Whisk chilled mixture if it's too thick to pour into machine.)
Store in freezer.  Remove 20-30 minutes before serving.