What's your favorite dessert? Some people love fruit deserts, some especially love lemon, cakes, pie or creme brulee. What's your favorite ? Me, I go for chocolate if given a choice and a brownie is at the top of my list.  If there's a dessert buffet, I ALWAYS pick up a brownie. (…. and maybe some cherry pie).  I had my "tried and true" brownie recipe, but to be truthful, I was a little bored with it. So I started searching on the web and it didn't take long to come across the King Arthur Flour GUARENTEED Fudge brownie recipe.   Well, I made them the other day and OMG !!!  They ARE the best brownie !!!!  It's definitely not safe for me to have these around the house – so some lucky friends will be the recipients of the rest of this batch. OK, I confess, I AM going to have just one more……..
I really recommend following the directions the King Arthur Flour folks have put out on their blog . There were some great tips which I found very helpful. Such as heating the butter/sugar, lining the pan with greased parchment paper, and cooling the batter before adding the chocolate chips, in order to keep the chips more intact.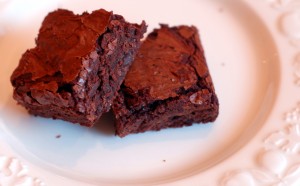 Fudge Brownies (makes 24)
Ingredients:
2 sticks unsalted butter
2 1/4 cups sugar
4 large eggs
1 1/4 cups Dutch process cocoa
1 tsp salt
1 tsp baking powder
1 tsp espresso powder
1 Tblsp vanilla extract
1 1/2 all purpose flour
2 cups semi sweet chocolate chips
Instructions:
Put the butter and sugar in a microwave dish and melt the butter.  Stir to combine. Continue to microwave mixture 90 seconds – 2 minutes until the edges start to foam.
As the butter/sugar mixture is  'cooking', break the eggs into a mixing bowl.
Add cocoa, salt, baking powder, espresso powder and vanilla until smooth.
Add the hot butter/sugar mixture , stir until smooth.
Add the flour, stir until smooth.
Cool batter for 20 minutes.
Preheat oven to 350degrees F.  Line a 9×13 pan with parchment paper and grease the parchment paper.
Fold the chocolate chips into the batter.
Spoon the batter into the prepared pan and smooth into corners.
Bake the batter for 25-30 minutes, checking doneness with a toothpck after 25 minutes.
Cool

completely

before attempting to cut into 24 squares.