Last fall I was on a ginger kick. (see here and here). I also made ginger thumbprint cookies.  But I hadn't made Gingerbread, itself.  Well, not until now. Here's a wonderfully moist gingerbread, from King Arthur Flour. Perfect to keep on hand over the holidays… and it's ready within the hour. If you like spice, try adding the optional black pepper for a little kick.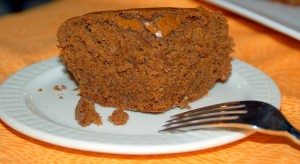 Gingerbread (makes 16 servings)
Ingredients:
2 cups all-purpose flour
¼ cup granulated sugar
1 tsp baking soda
½ tsp salt
1 ½ tsp ground ginger
1 tsp ground cinnamon
¼ tsp ground cloves
½ tsp ground nutmeg
¼ – ½ tsp black pepper (optional, to taste)
½ cup (1 stick) unsalted butter
¾ cup molasses
¼ cup water
1 large egg
1 cup buttermilk
½ cup diced crystallized ginger (optional)
Instructions:
Grease and flour a 9" square  pan.  Preheat oven to 350 degrees F.
In a large mixing bowl, whisk the flour, sugar, baking soda, salt, ginger, cloves and nutmeg together.
Melt the butter in a heatproof  measuring cup.  Add the molasses to the cup and pour into the dry ingredients.   Mix to moisten.
Add the water, stirring until  everything is moistened.
Whisk the egg and buttermilk  together.  Stir into the batter until it's evenly combined.  Stir in the crystallized ginger.
Pour the batter into the prepared pan and bake for 30-35 minutes, until the cake begins to pull away from the edge of the pan.
Remove from the oven and cool on a rack for 15 minutes, before slicing.
Serve warm.
Serve with whipped cream. or ice cream.