Even though yesterday was Thanksgiving, many of us are already in full winter – WOW !  It's cold weather like this that makes me want to stay inside, cook Chili, watch football and serve a fruit crisp for dessert.  This weekend I'll be watching a lot of the rival college football games- especially the Miss State vs Ole Miss game.  My niece goes to Ole Miss and I'm so thrilled that she's getting to experience  the excitement of such a good season!  Go Rebels!!  But, I digress.
I've shared a couple of crisp recipes with you before (here and here).  I love them because there's no pastry involved- just fruit and a crumbly topping.  I also love how great the house smells while they're baking.  I generally put them in to bake when I serve dinner-  one hour later, the house feels cozer and everyone's ready for dessert (usually in front of the TV to watch the second half.  I'm sure I'm not the only one who schedules dinner to be ready right at halftime.
This time I've switched things up a bit by using pears, dried cranberries and cardamom. I used a combination of pears – Anjou and Bosc. (I combine variieties when I make an apple crisp too).  Cardamom is a differnt spice that I don't use often.  It's a strong spicy, citrusy taste,  used in Eastern, Arabic and Scandinavian dishes. Yes – Scandinavia – apparently the Vikings brough it back from the east.  I think it's provides a little more zing than cinnamon.  Along with the dried cranberries, it pairs well with the subtle pear flavor.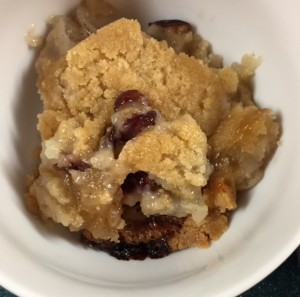 A crisp is so easy to make.  Peel and thinly slice the pears. Combine with dried cranberries and lemon juice.  Layer in a baking dish.  Make the crumbly topping in a food processor.  Press the topping over the fruit  and bake for an hour. Voila!   I serve it with ice cream or whipped cream. Btw – if you have some leftover cranberry conserve or relish from Thanksgiving, use that instead of dried cranberries.
Ingredients
2 1/2 - 3 pears, peeled and thinly sliced
1/2 cup dried cranberries
1 Tblsp lemon juice
1/2 tsp cardamom

Topping:

1 cup flour
1 cup sugar
1/2 tsp cardamom
1/4 tsp salt
1 stick butter, cold and diced
Instructions
Preheat the oven to 350 degrees F and spray an 8x8 inch or similar baking dish.
Place the pears in the dish. Sprinkle with dried cranberries, lemon juice and 1/2 tsp cardamom.
In a food processor, combine the dry topping ingredients. With the motor running, add the diced butter and pulse until a crumbly mixture is formed.
Press the topping over the fruit layer, covering completely.
Bake for 1 hour, until the topping is brown and the fruit is bubbling.
Serve with ice cream or whipped cream
http://ascrumptiouslife.com/pear-and-cranberry-crisp/