I know it's two days before Thanksgiving, but do you have time for one more addition to your holiday table?  I hope so, because this is quick, delicious and versatile – Apricot Cranberry Relish.  This recipe is from my mom's recipe collection. It's one of her favorites and now that I've made it, I can see why.  The slight bite of cider vinegar is not overpowering, so this dish can be used a variety of ways. Naturally, it's great for Thanksgiving dinner (and, of course, Friday's sandwiches). Since I'm the 'appetizer queen' again this year, I'm going to spoon it over some brie for an appetizer.  Later this weekend, I might even try it as a dessert , with a  crisp topping and or a little ice cream.   My mom has also given this as a Christmas gift.  So, if you don't have time to make it for thanksgiving, try it later in the holiday season!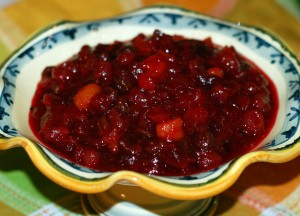 Apricot Cranberry Relish (makes 3 cups, 9 servings)
Ingredients:
1/4 cup dried apricots , chopped
3/4 lb cranberries (not dried)
1/2 cup raisins
3/4 tsp ground cinnamon
1/4 tsp ground ginger
1/4 tsp ground allspice
1 pinch ground cloves
1 cup water
3/4 cup white sugar
1/2 cup cider vinegar
Instructions:
Combine the fruit and spices in a bowl and set aside.
In a medium saucepan, combine the water and sugar.  Bring to a boil, stirring constantly, until sugar is dissolved.
Add the fruit mixture and vinegar.  Bring to a boil, then lower the temperature and simmer for 10 minutes.   (Don't worry if the mixture seems a little liquidy- it will thicken as it cools.)
Remove from heat and cool for 5 minutes.
Serve immediately or refrigerate in a covered container.
Happy Thanksgiving (and happy leftovers!)