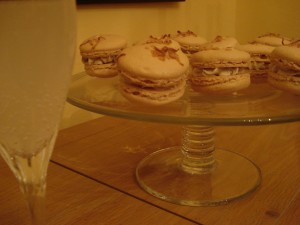 As I've posted before I love macarons- those french almond meringue sandwich cookies filled with buttercream, jam, chocolate……..  I recently found a site for macarons lovers – Mactweets.  Each month they have a "Mac Attack" challenge where food bloggers each make a macaron of the month.   The challenge is generally a theme rather than a defined recipe. This month's challenge is to make a sweet/savory macaron  that could be served as an appetizer with champagne – and I decided to give it a try.
I have a recipe for a wonderful appetizer that takes a savory turn on another sweet treat – Curry Chicken Cheesecake.   So I've brought those flavors to a macaron.  The shell is the traditional recipe with a touch of curry powder (1 tsp)  I had hoped the curry would color the cookie a little, but it didn't.  I decided to forgo adding additional color to the meringue batter because I though the regular color was more sophisticated, less Disney.  I added  a sprinkle of coconut, a typical curry topping, to half of the shells while they dried, before baking. The filling  is a creamy mixture of cream cheese, chicken,milk and currants, another curry topping.
I am thrilled with the results.  First off, all the shells had pieds – woohoo!  (I'm still new enough at this that's that's exciting).  And as for the taste ???  They're a nice little surprise.  The vanilla (from the basic recipe)and curry powder provide a little zing – kinda like ginger.  The creamy chicken filling (recipe below) provides a nice smooth balance.
Well this has been fun, I think I'll participate in a Mac Attack again, soon!
Curry Chicken Macarons – filling ( this recipe yields enough filling for 12 macarons)
Ingredients:
3 oz cooked chicken
3 oz cream cheese
2 Tablespoons Milk
1/8 teaspoon curry powder
2 Tablespoons currants
salt and pepper to taste
Instructions:
Put chicken in a food processor and puree until crumbly.
Add cream cheese and milk and process until creamy.
Add curry powder and currants and pulse until incorporated.
Add salt and pepper to taste.
Refridgerate until needed.
Once the macaron shells have cooled, pipe the filling (I used a star tip to make it a little fancier) onto a plain shell and sandwich with a coconut topped shell.
Refridgerate for 24 hours.