It all started years ago, when it seemed that ALL our friends got dogs in the same year.  I had just purchased "Rose's Christmas Cookies" by Rose Berenbaum and ran across her recipe for 'Bones a la Fido"- ahhh, the perfect gift for our friends with dogs !!!  This began a tradition that I continue today.
That original recipe called for a mixture of flours, broth and yeast.  But as food allergies appeared in the doggie set I found I needed to find new recipes, since some dogs can't  have wheat – and NO dogs should have onions, raisins, grapes and chocolate (white chocolate, however, is ok).  Last year I tried 'Tuna Tasties', a recipe I found on gourmetsleuth.com. – a great source for dog biscuits recipes.  They were a big hit !   Then, this year I was vacationing in North Carolina and bought 'the organic dog biscuit cookbook" from the  Bubba Rose Biscuit Co.  I tried one of their sweeter recipes, using cinnamon and molasses. Both of these recipes have been endorsed by my taste taster, Maggie.  She was a VERY willing particpant !
These treats can be cut into any shape you like.  I love using  'dog bone' cutters.  I have also used 'fire hydrants'. I think a fish shaped  cutter would be great for the Tuna Tasties. Whatever the shape, I suggest using smaller sized cutters so that you get more treats from each batch.  I present these treats in small bags  tied with 'paw print' ribbon.  I also add a gift tag, listing all the ingredients.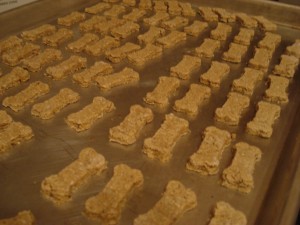 Tuna Tasties
Ingredients:
1 cup rolled oats
1 cup cornmeal
1 teaspoon ground flax seed
1/4 teaspoon baking powder
1 can tuna or salmon packed in water ( NOT drained)
1/3 cup water (or as needed)
Instructions:
Preheat oven to 350 degreees F.
Spray cookie sheet with cooking spray
Grind Flax see, set aside.
Grind oats to a course flour, set aside
Put tuna in a food processor and pulse until smooth.
Add all other ingredients and pulse until the mixture comes together in a ball.  If the mixture is too dry, add additional water , a teaspoon at at time , as needed
Turnout the dough onto a lightly floured work surface and knead until the dough is soft, about 1 minute.
Rollout the dough to a 1/4 inch thickness.
Cut dough into shapes, using a cookie cutter dipped in flour and place onto the greased cookie sheet.  (They won't spread, so can be placed closely together).
Bake treats for 20-25 minutes, until firm and nicely browned.
Cool treats on a wire rack.
Store treats in the refrigerator in an airtight container.
"bark 'o lanterns'- adapted from 'the original dog biscuit cookbook'
Ingredients:
1 cup oat flour ( I pulsed rolled oats in the processor to flour form)
1 cup brown rice flour
1 cup canned pumpkin
2 Tablespoons molasses
1 tsp cinnamon
1 egg
Instructions:
Preheat oven to 350 degrees F.
Combine all ingredients together in a food processor and mix until a ball forms.
Roll out on a floured surface to  a 1/4 inch thickness.
Cut into shapes using a cookie cutter and place treats on ungreased cookie sheet (You can place them close to each other as they won't spread)
Bake for 20-25 minutes.
Remove from oven and cool on a wire rack.
Store in refrigerator in an airtight container.