Next to chocolate, I think lime is my favorite flavor.  I love the kicky taste and it always reminds me of the beach…..  and since a beach trip is not in the cards right now….Here's a great Lime Cupcake with Lime Buttercream Frosting recipe.  I first made these last summer, for a girls afternoon at the lake, when I was tagged to make the dessert.   I decided to make mini cupcakes and these little pops of flavor were a big hit.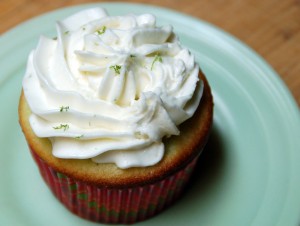 Lime Cupcakes with Lime Buttercream Frosting
Ingredients
Cupcakes

1 large egg
1 large egg white
1/2 cup milk
1 teaspoon vanilla extract
1 packed cup (5 ounces) unbleached all-purpose flour
3/4 cup sugar
2 teaspoons baking powder
1/4 teaspoon salt
5 tablespoons (2.5 ounces) unsalted butter, room temperature
1 tablespoon lime juice
1 1/2 teaspoons grated lime zest

Frosting

5 tablespoons unsalted butter, room temperature
2 cups powdered sugar, unsifted
Pinch salt
1/2 teaspoon vanilla extract
1 tablespoon lime juice
1 teaspoon very finely grated lime zest
Instructions
Cupcakes

Preheat oven to 350 degrees. Line a 12 muffin pan with paper liners.
In small bowl, lightly combine the eggs, a quarter of the milk, and the vanilla.
In large mixing bowl, combine all the dry ingredients and mix on low speed for a minute to "sift."
Add the softened butter and remaining milk. Mix on low speed until combined. Cotinue to beat for 90 seconds.
Add the egg mixture in three batches, beating for 20 seconds after each addition.
Scrape the bowl and, with spatula, hand stir in lime juice and zest.
Spoon the batter into the baking cups, filling each with a scant 1/4 cup of batter.
Bake at 350 degrees for about 20 to 24 minutes or until they are golden and test done with a toothpick.
Immediately remove from pans and cool on wire rack for an hour. Cool thoroughly before frosting.

Frosting

Using a mixer, cream the butter until smooth.
With the mixer on low speed, gradually beat in the powdered sugar.
Add the salt, vanilla extract and lime juice and beat on high speed until frosting is light and fluffy- 5 minutes.
Stir in the finely grated lime zest.
Notes
Recipe from http://www.delightfulrepast.com/
http://ascrumptiouslife.com/lime-cupcakes-with-lime-buttercream-frosting/