I know, technically, summer is still a week away – but it's already hit the 90's this week in Atlanta… and you know what that means…. time for ice cream! My first ice cream flavor of the season?  Coconut Lime.  I've meant to try this flavor for a while and I'm glad I've finally made it – the flavor is subtle and refreshing.  I used the non-egg "Philadelphia" method for this recipe, which can easily be converted to the French style, custard based method, if you prefer. For serving, I topped it with Trader Joes Roasted Coconut strips – btw – have you tried them??  Crack, I'm telling you  – Crack !! Make sure you buy an extra bag!!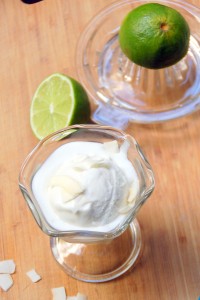 Ingredients
1 1/4 cup heavy cream
3/4 cup sugar
1/2 cup sweetened shredded coconut
1 - 13 oz can coconut milk
Juice and Zest of one lime (see note)
Instructions
Heat the heavy cream, sugar and coconut until the sugar melts.
Remove cream mixture from the heat and steep for 30 minutes.
Pour the cream mixture into a large bowl. Add the remaining ingredients and stir to combine.
Chill the mixture in the refrigerator.
Remove from the refrigerator and strain the coconut from the liquid (Squeeze the coconut to get all the milk).
Prepare the ice cream accoording to your ice cream maker's directions.
Store the ice cream in the freezer until ready to serve.
When serving, allow the ice cream to stand at room temperature for about 15 minutes.
Notes
The 'juice of one lime" amount will vary. Keep an extra lime on hand, in case you want more lime flavor.
http://ascrumptiouslife.com/coconut-lime-ice-cream/