It's cookie swap week on a scrumptious life.  Tuesday's post was about the cookie I made for the Food Blogger Cookie Swap – rugelach.  Today's recipe is the cookie I'm making for MY cookie swap, this weekend.  This is my 3rd annual swap so I DO believe it's now a tradition!
While I needed to bake a travel worthy cookie for the Food Blogger Cookie Swap, for my swap I decided I would finally make a cookie I've had dancing around in my head for a while. (Ever since I saw that bag of peppermint pieces at World Market in October!)  The base of the cookie is a knock off of a Milano Cookie (based on a recipe from The Food Network).  But instead of making a sandwich cookie, I decided to take each half, dip it in chocolate and sprinkle with peppermint pieces.
So with no further ado, here they are! Don't they look scrumptious!!  (And they're so light, no one could fault you for  having two a few.)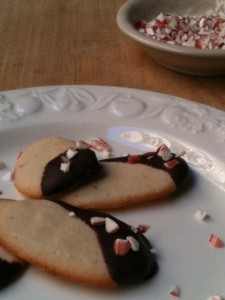 Ingredients
Cookie

12 tablespoons butter, softened
2 1/2 cups powdered sugar
7 egg whites
2 tablespoons vanilla extract
1 1/2 cups flour

Topping

6 oz chocolate chips ( I used semi sweet)
1/2 Tblsp canola oil
Peppermint pieces (approx 4 oz)
Instructions
Cookie:

Preheat oven to 350 degrees F.
Cream the butter in an electric mixer with a paddle attachment, then mix in the powdered sugar.
Add the egg whites gradually and then mix in the vanilla extract.
Add the flour gradually and mix on LOW, until just incorporated.
Pipe 1-inch sections of batter, using a small (1/4-inch) plain tip, onto a parchment-lined sheet pan. Space them 2 inches apart - they will spread as they bake.
Bake the cookies for 11 minutes or until light golden brown around the edges.
Cool the cookies for a few minutes on the pan, then transfer to a wire rack..

Topping

Melt the chocolate and oil in a microwave in 30 second intervals, stirring after each session.
Dip the cookie, diagonally, into the chocolate. Shake off any excess.
Sprinkle the top chocolate part of the cookie with a few peppermint pieces.
Place the cookies on a wax paper lined cookie sheet in the refriderator for 10 minutes, until set.
Store cookies in an airtight container with wax paper between layers.
http://ascrumptiouslife.com/2013-christmas-cookie/