Today's the day – the day 619 bloggers all post our cookie recipes from this years Food Blogger Cookie Swap.  This is the third year I've participated.  Like last year the cookie swap is not only fun, but benefits Cookies for Kids cancer charity – fun and a good cause , what's not to love!
Each blogger sends and receives 3 dozen cookies.  So far, I've received cookies from:  my chicken fried life  – a "Compost Cookie" I can't wait to find out what all she puts into these cookies. They were great with a cup of coffee.  Jennifer from Peanut Butter and Peppers sent me a delicious Chocolate chip, pistachio and cranberry cookie .  Katie from butterlustblog sent some divine Pecan Squares. Thanks ladies!!
Picking a cookie is always a challenge.  Since the bloggers are from  all over the country, the cookies have to stand up to shipping. (This year I mailed my treats to Arizona, Indiana, and Brooklyn.) In the past two years, I've made Gingerbread Biscotti and  Holiday Shortbread, for  that reason.  This year I  made rugelach.
I was introduced to rugelach in high school. I remember going to a great bakery in Greenwich Ct, with friends to  buy them. I like rugelach because the cream cheese pastry dough produces a cookie that's not as sweet as many other holiday treats. I couldn't find the recipe I'd used before, so I tried Ina Garten's  recipe from her "Barefoot Contessa Parties!" cookbook as my base and then went from there.  Her recipes are so reliable and I was not disappointed.
But, you know me, I made a few changes.  First, instead of rolling the dough into rounds, cutting the dough into wedges and rolling the wedges croissant style, I rolled the dough into rectangles, then rolled the entire rectangle into a "log" and then cut the log into pieces.  I found that this rolling method requires that the cookies be baked for an additional 5 minutes and frankly makes a smaller cookie, but I thought it might work better for shipping.  The recipe below is for the croissant style method.
Second, I tried a different filling from Ina's recipe, using "FROG" preserves, chocolate chips and pecans.  I found the "FROG" (fig, raspberry, orange, ginger) preserves at Georgia's own Jaemore Farms, earlier this fall and have been dying to use it.
Hints: Chop the pecans and chocolate chips for easier rolling.  This recipe has 2 steps requiring refrigerating the dough, so make these when you're not pressed for time.  I made two batches and found out the recommended refrigeration times did produce a better rolling/baking experience.
So here are the little beauties all ready to get wrapped up.  To wrap the cookies I used bakery style boxes and string. I also attached an a scrumptious life card I made at MOO cards.  I packed the box using bubble wrap and paper stuffing and hopefully they arrived in one piece.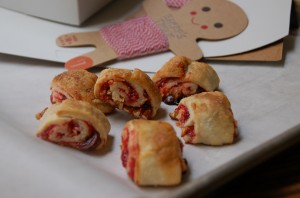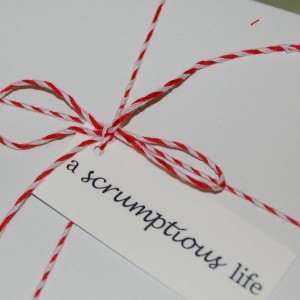 I do look forward to this cookie swap every year.  A big shout out to Lindsay and Julie for organizing the swap.  Check out their sites in the next week for  links to all the blog posts. Also, thanks to the swap's Sponsors – Grandma's Molasses, Dixie Crystals, Gold Medal Flour and OXO.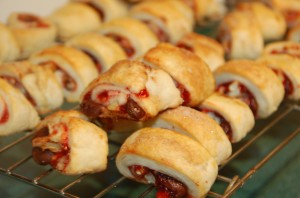 Ingredients
8 oz cream cheese, room temperature
1/2 lb unsalted butter, room temperature
1/4 cup sugar plus 3 Tblsp
1/4 tsp kosher salt
1 tsp vanilla extract
2 cups all-purpose flour
8 oz preserves
1 cup pecan pieces
3/4 cup chocolate chips, small
1 egg beaten with 1 Tblsp water or milk
1 tsp cinnamon
Instructions
Cream the cream cheese and butter in an electric mixer, fitted with the paddle attachment.
Add 1/4 cup sugar, the salt and vanilla extract and mix to combine.
With the mixer on LOW, add the flour in three additions and mix until just combined.
Dump the dough out onto a well floured board and roll into a ball.
Cut the ball in quarters, wrap each portion in plastic and refrigerate for 1 hour.
On a well floured board, roll out one portion of dough into a 9 inch circle.
Spread the dough with 1/4 of the preserves and then sprinkle 1/4 of the pecans and chocolate chips onto the dough. Press the topping into the dough, lightly.
Cut the circle into twelve equally wedges. Roll each wedge, starting with the wide edge of the wedge.
Place the cookies, points tucked under, on a parment paper lined baking sheet. Refrigerate for 30 minutes.
Repeat steps 6 to 9 with the remaining three portions of dough.
Preheat oven to 350 degrees.
Brush the cookies with the egg wash. Combine 3 Tblsp of sugar and the cinnamon- sprinkle lightly over the cookies.
Bake the cookies for 15-20 minutes, until lightly browned.
Remove to a wire rack to cool.
Notes
You can also roll the dough into a rectangle, top the dough and roll the dough into a log - then slice into 12 pieces. If you use this method, add 5 minutes baking time.
http://ascrumptiouslife.com/fbcookieswap2013-rugelach/