When I read Hugh Acheson's cookbook  "A New Turn in the South", he referred to using carnaroli rice instead of arborio rice because it makes a creamier risotto.  I'd never heard of carnaroli rice.  Not two weeks later, I was vacationing in Florida and came across it in a little gourmet shop.  Naturally, I bought some.  I've been using it sparingly. I'm so glad I had some left to make this delicious Wild Mushroom Risotto.
I love risotto – such a wonderful comfort food.  Here, I'm using the carnaroli rice and wild mushrooms for what may be the perfect comfort food – so rich and satisfying.  It's preparation involves slow constant stirring for about half an hour, but even that is comforting to me.   I enjoy stirring risotto while I chat with my guests and share appetizers.  A perfect example of there's nothing like good food and good company.
You can make this dish vegetarian by simply substituting vegetable broth.  It's makes a great main course or a side. Although it's not a make ahead dish, it's worth it.  If you have other dishes to prepare, get your guests involved, by asking them to help with the stirring.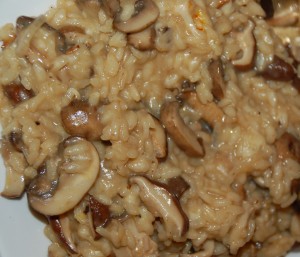 Wild Mushroom Risotto (serves 4)
Ingredients:
6 Tblsp olive oil
1 cup onions, small dice
8 oz sliced mixed wild mushrooms, wiped clean and de-stemmed
1 cup carnaroli or arborio rice
½ cup white wine
4 cups low sodium chicken stock
¼ tsp saffron
½ cup grated parmesan cheese
Instructions:
In a separate saucepan, heat the chicken broth to a  simmer – keep warm.
In a Dutch oven, heat the olive oil over medium heat and add the onions.       Cook until tender, 5 minutes.
Add the mushrooms and sauté for 6 minutes.
Add the rice and stir well to coat all the rice with the oil. Sauté for 2 minutes.
Add the white wine and, stirring constantly, let it cook down.
Add 2 ladles of warm stock to the rice mixture.  Stir constantly until the stock is absorbed.
Add the saffron and repeat step 6 until all the stock has been absorbed. The risotto will be thick and creamy. Total cooking/stirring time will be approximately 30 minutes. Check for seasoning.
Remove the pan from the heat and  add the cheese to the risotto. Stir until the cheese is melted and incorporated.
Serve immediately with a little extra parmesan cheese on top