Here's a recipe for a great meatless appetizer- perfect for a buffet or holiday meal- Spinach Stuffed Mushrooms. It's  wonderful for entertaining, because the filling can be prepared in advanced – then popped in the oven for a quick 8-10 minutes, just before your guests arrive.  I made these twice this month alone – once for a pot luck and on Christmas. For the pot luck, I prepared these using small, pop-in-your mouth mushrooms.  For Christmas I used larger mushroom so they could be served as a first course – using a fork.  Either way, they were delicious.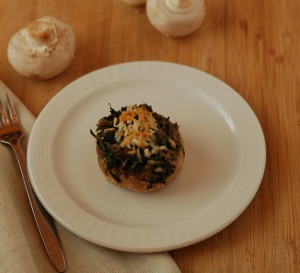 Spinach Stuffed Mushrooms (adapted from Silver Palate)
Ingredients:
12 medium mushroom caps, de-stemmed and cleaned (see note below)
1 Tblsp olive oil
1 Tbslp butter
 1.2 cup finely chopped onions
1 garlic clove, minced
2 Tblsp chopped walnuts
5 oz frozen spinach, defrosted and drained(well)
1 oz feta cheese, crumbled
1 oz gruyere cheese, crumbled
2 Tblsp fresh dill, chopped
salt and pepper to taste
shredded parmesan cheese for topping
Instructions:
Heat oil and butter.  (Note: this may seem like alot of oil/butter, but I've tried it with less and always end up adding additional oil.)
Add onions and cook on medium heat, covered, stirring occasionally for 15 minutes,  until tender.
Add walnuts and garlic and cook for 1 minute.
Add spinach and cook for 5 minutes, stirring constantly.
Remove from heat and cool to room temperature.
Add feta, gruyere and dill. Season with salt and pepper.
Refrigerate filling alone, or fill mushrooms and refrigerate until ready to cook.
Fill mushroom caps with stuffing forming a mound.
Preheat oven to 400 degrees.
Sprinkle the filled mushrooms with parmesan cheese.
Cook mushrooms for 8-10 minutes.
Note: when cleaning mushrooms with a slightly damp paper towl or mushroom brush.  DO NOT use water directly on the mushrooms.