I am not a big fan of rice.  There, I've said it. Occasionally, I make Fried Rice (with rice I didn't touch from my chinese takeout) or Risotto.  But, frankly, I'd rather eat other stuff!  But I love this dish!  The original recipe is from 'The New Basics Cookbook' from the Silver Palate.  Those Silver Palate cookbooks got me into the kitchen after college.  Back then it was not too easy to find brown and wild rice.  And I added white rice, because only 'health nuts' ate that brown stuff (It was the 80's y'all !)  So  I ended up with three pots going at the same time, but for different amounts of time — it was a little hectic. Today, rice blends are readily available, which makes cooking this dish a snap (cleaning up too!).
This dish blends the nutty flavors of the rice and nuts, with the fruity currants, orange zest and juice. What a tasty combination!  It's a great make-ahead dish because you can cook the rice, mix in the other ingredients, then refrigerate until ready to cook.  I often serve this with Chicken Divan.  I prep both dishes the night before and then cook them together, right before company arrives.  And both dishes freeze well, so it's one of my favorite meals to take to friends who need a little home cooked love.  I'll feature the Chicken Divan recipe in  a future post, but here's the rice recipe.
Twice the Rice Casserole  (adapted from The New Basics Cookbook) Serves 8.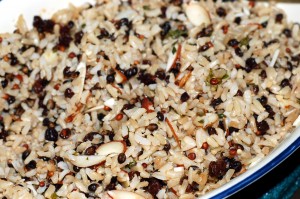 Ingredients:
2 cups mixed rice, uncooked

1 cup currants (or dried cranberries)

1/2 cup almonds or pine nuts

1/4 cup chopped parsley

2 Tablespoons grated orange zest

2 Tablespoons orange juice

1/3 cup olive oil

salt and pepper to taste

1/4-1/2 cup grated parmesan cheese
 Instructions:
Cook rice per package instructions.

Add remaining ingredients, except the cheese.

Toss to combine.

Transfer mixture to an ovenproof casserole. (If preparing in advance, refrigerate at this point.  Return to room temperature before cooking).

Preheat oven to 350 degrees F.

Cover casserole with foil and bake for 20-30 minutes.

Sprinkle cooked rice with cheese and serve.