You know, life isn't always 'tidy'.  So when a friend is going through a difficult time, I like to take them over a meal.   Chicken Divan  is often the dish I bring.  It's real comfort food to me.- must be the  creamy sauce (I always make extra).  I often pair it with my Twice the Rice Casserole.   The fruity nutty rice is a nice contrast to the slight curry flavor of the Divan.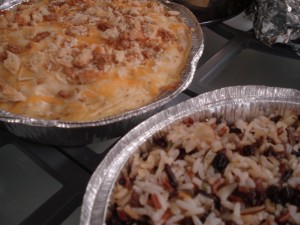 Chicken Divan (serves 6-8)
Ingredients:
6 Chicken Breasts
2 1/2 cups of broccoli florets. cooked
2 cans cream of mushroom soup, not prepared
1 cup mayonaise
1/2 tsp curry powder
1 tsp lemon juice
1/2 cup grated cheddar cheese
Breadcrumbs ( or stuffing mix)
Instructions:
Poach chicken in water or chicken broth for 15 minutes or until cooked. Cool
Preheat oven to 350F degrees.
Mix the soup, mayonaise, curry powder, lemon juice and cheese.
Put the broccoli on the bottomof a casserole dish.
Cut the chicken breasts into pieces and place on top of the broccoli.
Cover the chicken/broccoli with the soup mixture.
Sprinke the top with breadcrumbs.
Bake for 30 minutes until bubbly.
This dish freezes well. Cool completely , then wrap well before freezing.