Well, it's almost Super Bowl Sunday.  Or should I say 'Souper Bowl' ?  I'll be having chili for the big game.  How about you?   I've already shared two of my favorite chili recipes – Souper Jenny's Turkey Chili and White Chicken Chili.  But I thought it would be good to have a vegetarian chili in my repertoire, as well.  So recently, I tried this Black Bean and Mushroom recipe.  It's so thick and tasty you don't miss the meat at all – and how nice to have an option for your vegetarian friends.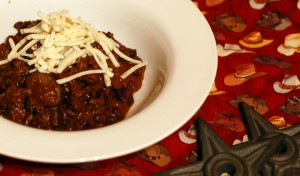 Black Bean and Mushroom Chili (makes 10 servings)
Ingredients:
1 Tblsp extra virgin olive oil
2 Tblsp chili powder
1 Tblsp chipolte powder
1 1/2 tsp ground cumin
1/2 tsp cardamon
2 medium onions, chopped
1 lb mushrooms sliced or chopped (I used baby bellas)
4 cans black beans, drained
1 cup tomatillo salsa
1/4 cup mustard
1/4 cup water
5 1/2 cup vegetable broth
1 60z can tomato paste
2 Tblsp cilantro paste
Grated Montery Jack cheese and sour cream, for topping
Ingredients:
Heat olive oil in a 5-6 quart Dutch oven.
Add spices and stir for 30 seconds.
Add onions and mushrooms and cook for 3-5 minutes.
Add black beans, tomatillo salsa, mustard and water and cook covered for 3-5 minutes.
Add broth, tomato paste and cilantro paste.  Cook uncovered on medium heat, stirring often for 90 minutes, to the desired thickness.  (If you're not eating this immediately, store it a little thinner than desired, for reheating).
Serve with the cheese and sour cream.
adapted from Eating Well.