I love chili, especially during football season. For the last few years I've relied on Souper Jenny's Turkey Chili, which I posted last year.  This fall I wanted to try a white chili, so I recently tried this recipe I found in my mom's recipe file.  Well, it's a keeper!   I made it on a football Saturday. I started it a little before the game and it was ready by halftime.  I hope you try it next game day!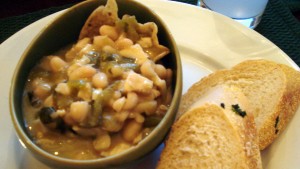 White Chicken Chili (makes 4-6 servings)
Ingredients:
3-4 boneless, skinless chicken breasts
2 – 14 oz cans chicken broth
1 1/2 tsp white pepper
1 tsp garlic powder
3 Tblsp vegetable oil
2 – 15 oz cans great northern beans (drained)
2 – 4 1/2 oz cans chopped green chiles (drained)
1 – 10 1/2 oz can cream of chicken soup
3 Tblsp jalepeno pepper juice (from jar)
2 Tblsp minced fresh cilantro
1 tsp salt
6-8 flour tortillas
Sour cream and grated mozzerella cheese for garnish.
Instructions:
Preheat oven to 350 degrees F.
Bake the chicken breast in 1 can of chicken broth until chicken is cooked.
Cool chicken and retain the broth.
Cut the chicken into small pieces and season with the white pepper and garlic powder.
In a stockpot, saute the chicken in the oil for 2-3 minutes.
Add the retained broth and the remaining ingredients (except the tortillas). Bring mixture to a boil and simmer for 30 minutes. Taste and fix seasonings. (I also added a few dried jalepenos)
To serve, cut the tortillas into strips.  Place a few strips in each bowl.  Ladle the chili on top. Garnish with sour cream and grated mozzarella cheese.
Note: I used Tostito scoops instead of flour tortillas, with good results.