Well, I did it again…. I went to the farmers market hungry and came home with far too much zucchini.   Last time I used the extra zucchini to make Chocolate Zucchini Bread.  Mmmmm. This time I made Zucchini Fritters.   So versatile, they can be served as an appetizer, side or main dish. So yummy, the kids won't mind eating their veggies!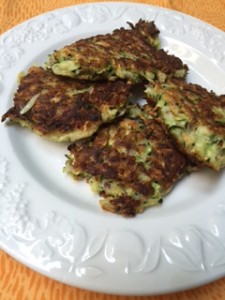 Zucchini Fritters are very simple to make, especially when you use a food processor to grate the zucchini and onion.  You mix grated zucchini and onion with an egg, lemon juice, flour, baking powder, thyme and salt and pepper.  Then you cook the fritters in canola oil, until they are a golden brown.
The secret to this dish is patience.  You want the fritters to brown slowly, so that the inside of the fritter cooks.  High heat is not your friend here. Medium high heat is best.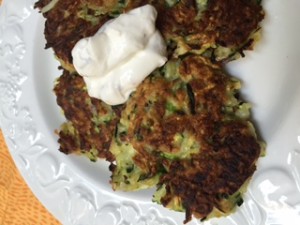 I served these as an appetizer with a yogurt sauce. You could also serve them alongside a salad for lunch or as a side with grilled chicken. How about as a base of an egg benedict style breakfast?!  I love having such  a versatile dish in my repertoire.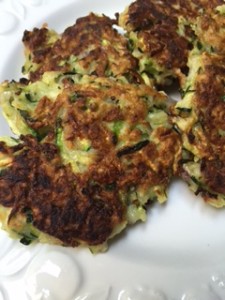 Ingredients
4 cups grated zucchini
1/2 cup grated red onion
1 egg, slightly beaten
1/2 tsp lemon juice
1/2 cup all-purpose flour
1/2 tsp baking powder
1/2 tsp salt
1/2 tsp dried thyme
1/4 tsp black pepper
Canola oil
Instructions
Place the zucchini and onion in a kitchen towel and squeeze out as much liquid as possible.
Add the egg and lemon juice and stir to combine.
Add the dry ingredients and stir to combine.
Heat 2 Tblsp canola oil in a non-stick skillet, at medium high heat.
Spoon the mixture into the pan. I used a 1/4 measuring cup.
Tap the mounds to flatten and cook for 4 minutes. Flip the fritters and cook 3-4 minutes longer.
Repeat in batches, using more canola oil if needed.
http://ascrumptiouslife.com/zucchini-fritters/